Scenic USA - Maine
Scenic USA offers a collection of select photographs from a wide variety of attractions, points of interest, historic sites, state and
national parks found throughout the United States. Each photo feature is coupled with a brief explanation.
For further detailed information, links to other related sites are provided.
Tenants Harbor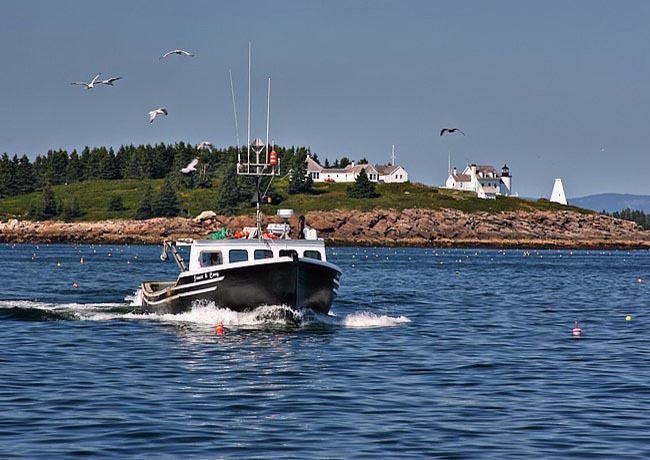 One of the popular stops on a Penobscot Bay lighthouse tour is this Southern Island site. Although decommissioned over 75 years ago, the Tenants Harbor Lighthouse is still pretty as a picture, or more accurately, pretty as a painting. Kept in the famed Wyeth family for the last 30 years, the lighthouse has been the subject of a number of Wyeth paintings, by both Andrew and his son Jamie.
Jamie Wyeth and his wife, Phyllis, have continued living at the light-station, keeping it in splendid condition. The younger Wyeths have recounted their stay as living in an Andrew Wyeth painting
Tenants Harbor is a typical Maine working port, steeped in maritime industries. The entrance to the harbor is still clearly marked with an array of white light-station buildings, including the lighthouse tower, light-keepers quarters, and a pyramidal bell tower, used as an art studio. Jamie Wyeth playfully greets the daily tour boats and their guests with a loud cannon report. For lighthouse aficionados, Maine is a haven for dozens of picturesque lighthouse settings.
Copyright ©2007 Benjamin Prepelka
All Rights Reserved