Scenic USA - Maine

Marshall Point Lighthouse
---
---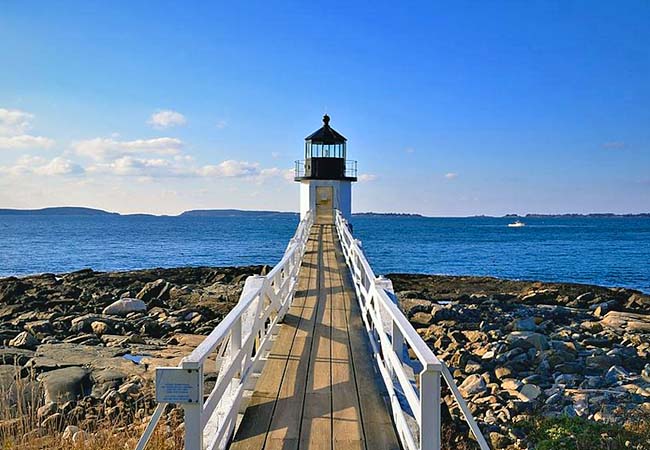 Because of Maine's long, intricate shoreline, broken up with hundreds of long bays, peninsulas, islands and inlets, many would guess the Pine Tree State has the most lighthouses in America. While Maine has 65 historic lighthouses scattered over its 5000 miles of coastline, the record goes to Michigan with a total of 124. Even though Maine isn't a record holder, nothing can separate thoughts of Maine from its picturesque lighthouses. And because of its charming seacoast villages and dramatic coastal scenery, lighthouse fans and vacationers keep returning year after year.
   Here at Port Clyde on the southern end of St. George Peninsula, the lighthouse at Marshall Point is one of the popular attractions on Maine's the mid-coast. Still an active navigational aid, the lighthouse, its familiar wooden catwalk and light-keeper's quarters have become the responsibility of the St. George Historical Society. Operating under a 30 year lease from the Coast Guard, members began a lighthouse refurbishment project in 1988. Staffed entirely by volunteers, the converted light-keeper's quarters, now a museum, was opened in 1990.
   Assisting sea-going traffic in and out of Port Clyde, the first light-station dates back to 1831 when a four acre plot of land was purchased from Samuel Marshall. A 20 foot rubble stone tower was raised, lit with seven lard oil lamps and reflectors. A replacement tower quickly followed. Well built with granite block and brick in 1858, the 31 foot tower originally powered a 5th order Fresnel lens. Perched on a rocky point at the harbor entrance, light-keeper Charles C. Skinner remained on station for 45 years.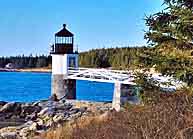 But, just like hundreds of lighthouses throughout the United States, the station was electrified and eventually automated, no longer requiring a keeper.
   As with a large number of Maine's lighthouses, refurbishment and maintenance has shifted to concerned townspeople. St. George Society members continue with maintenance projects, fund raising and oversight of the Marshall Point Lighthouse Museum.
   If this lighthouse scene still remains vaguely familiar but you still can't place it, the wooden catwalk served as the final destination of Forrest Gump's trek (1994) across America.

    Area Map
---
| | |
| --- | --- |
| Other Mid-Coast Lighthouses | |
---
Copyright © 2008-15 Benjamin Prepelka
All Rights Reserved