Scenic USA - Maine

Cuckolds Island Light Station
---
---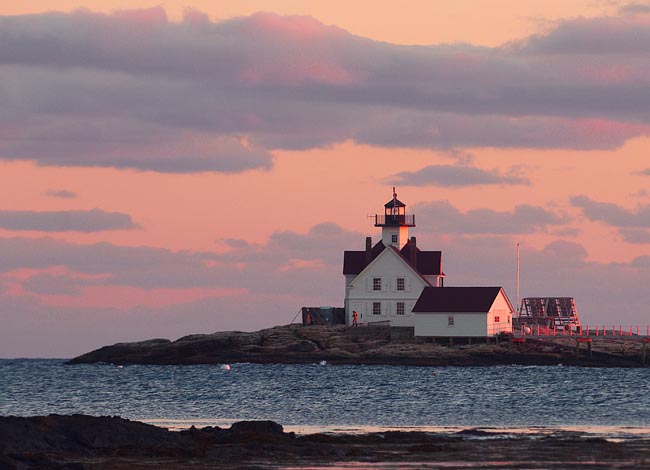 Photos by Darren Setlow and Dan Aube

Cuckolds, an unusual name with a definite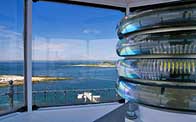 British flavor, was placed upon a pair of treacherous islands at the entrance to Boothbay Harbor. With these maritime obstacles, a series of dangerous ledges and shoals, daily runs into the safe harbor was somewhat difficult. Toss in some of Maine's nasty weather and a harbor socked in with fog, navigation to the home port was next to impossible.
In 1892, a bell and steam powered fog signal were placed on the easterly side of the island just 15 feet above high water. Subsequently, a light tower was added to the top of the fog signal building. Built to withstand heavy seas, the granite base rose 12 feet above the highest point on the island. The two story light keeper's quarters, built of heavy pine, was bolted to a rock ledge and attached to the fog signal foundation. The well built light station, completed in 1892, housed the light keepers and their families until the lighthouse was automated in 1974.
Left unattended, recurring bouts of vandalism prompted the Coast Guard to demolish the boathouse and keeper's quarters. Pushed into a heap of rubble, one of Maine's treasures of the past went up in flames. When their cherished landmark (the lighthouse) was threatened, citizens of Southport, armed with authority from the National Historic Lighthouse Preservation Act, worked for two years wading through reams of federal regulations in hopes to secure the lighthouse. After submitting their 542 page proposal, the Cuckolds Fog Signal and Light-station Council accepted the deed on May 8th, 2006. Planning on turning back the hands-of-time, the organization succeeded in replacing the boathouse.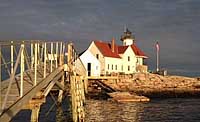 With a renewed sense of accomplishment, the team began work on the main structure. The keeper's dwelling was erected in 2011, and the interior work completed the following year. Today, the light station doubles as an exclusive romantic getaway, where artists, anglers, photographers, nature lovers and especially lighthouse enthusiasts may enjoy this little piece of heaven. Pampered with breakfast, afternoon tea and gourmet dinners, guests at the Inn at Cuckolds Lighthouse may escape the hubbub of the modern world in this beautifully restored Maine light station. First opened for overnight guests in the summer of 2014, public tours are set to begin in early spring 2015. Now, everyone may experience the restored light station, complete with transportation to the island aboard a vintage U.S. Navy whaleboat.

Area Map
For reservations, please visit The Inn at Cuckolds Lighthouse website,
or call 855.212.5252.
---
| | |
| --- | --- |
| Nearby Points of Interest | |
---
Copyright © 2008-15 Benjamin Prepelka
All Rights Reserved