Scenic USA - Maine
Scenic USA offers a collection of select photographs from a wide variety of attractions, points of interest, historic sites, state and
national parks found throughout the United States. Each photo feature is coupled with a brief explanation.
For further detailed information, links to other related sites are provided.
Doubling Point Lighthouse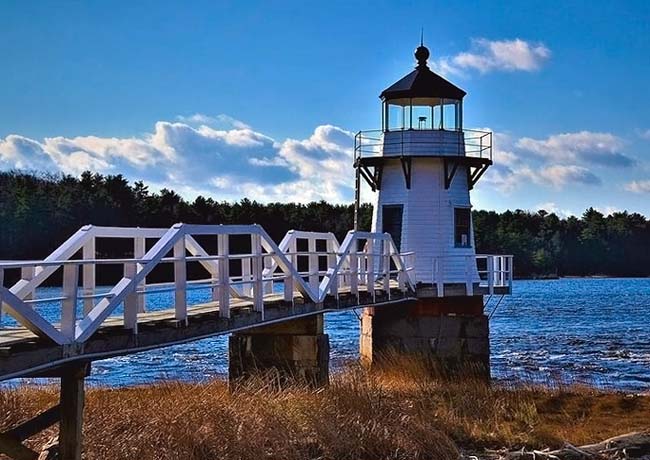 This delightful little lighthouse on the Kennebec River is dwarfed by the immense Bath Iron Works in the background. One of four beacons established in the late 1800s on the lower Kennebec, the Doubling Point Light remained in service until the 1970s. The light-station was sold off in 1935 to private interests. With later decommission, the fresnel lens became an exhibit at the Shore Village Museum in Rockland.
Maine's past, as well as the present is steeped in the maritime trades. The Bath shipyard, founded in 1884, continues to be one of the largest private employers in Maine. Contracts range from WWI gunboats to the battleship Georgia. During the height of WWII, the shipyard cranked out a destroyer every 17 days.
The Maine Maritime Museum is also located on the Kennebec. This 20 acre site, former home of the Percy and Small Shipyard, displays a wide assortment of maritime artifacts, sure to capture the interest of its visitors.
Thanks to the Friends of the Doubling Point Lighthouse for taking part in the necessary repairs and keeping the tower in such great looking condition.
Copyright ©2007 Benjamin Prepelka
All Rights Reserved