Scenic USA - Wyoming

Grotto Geyser
---
---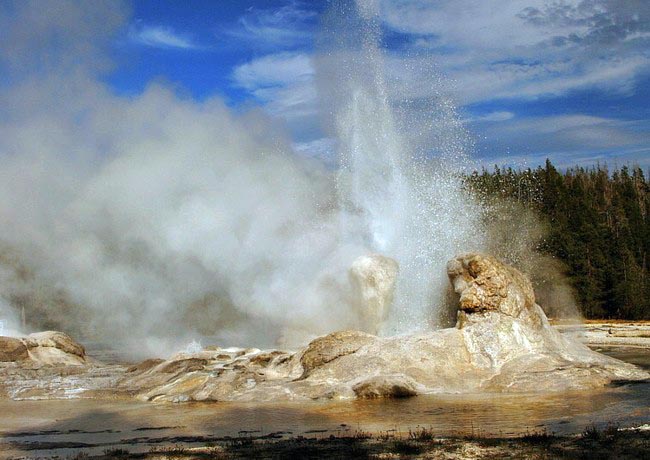 Without its steaming geysers and bubbling mud pools, Yellowstone National Park would first appear as any other majestic western parkland.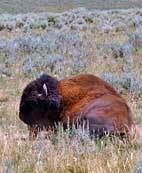 But under its thin crust of the earth lies a massive molten reservoir of magma, making Yellowstone like no other. Groundwater is heated by this massive furnace and quickly expands, looking for anyway to escape to the surface. Here along the Firehole River, over 200 geysers can erupt anytime, entertaining millions of guests over the last century.
Covering more than 3400 square miles of Wyoming's northwest, Yellowstone is one of America's most favorite parks. The park is not only wild geologically, but also biologically, with one of the largest concentrations of large game herds in the Lower 48. Shaped in a large figure eight, the park offers 370 miles of paved roads, guiding tourists to some of the best wildlife viewpoints in any park.
Although the Norris Geyser Basin, along the Gibbon River, holds the park's most active thermal features, the Upper Geyser Basin, featuring Old Faithful, is one of the most popular stops in the park. Grotto Geyser, pictured here, is one of the Upper Basin's major geysers. Members of the Washburn-Langford-Doane Expedition named seven of these geysers in 1870, including Grotto Geyser.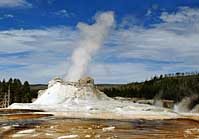 Erupting about every eight hours, one of the expedition members had just climbed up from the vent hole when Grotto Geyser decided to erupt. The eruption first emerges as a 45 foot plume, settling in at a height about 15 feet, sometimes lasting up to ten hours. Occasional eruptions, topping 30 to 40 feet, last for more than 24 hours. Grotto Geyser's unique shape was formed many years ago when the sinter built up over several tree stumps. Because of its unusual shape and the tremendous amount of water pumped into the Firehole River, Grotto Geyser is a favorite stop on the Upper Basin Trail.
Nearby Grotto Fountain Geyser, Rocket Geyser, Spa Geyser and Giant Geyser put on quite a show during hot periods. With all of its geological wonders, beautiful mountain ranges, and lush river valleys, it's no wonder why this became America's first National Park.

Area Map
Upper Geyser Basin Map
---
| | |
| --- | --- |
| Nearby Points of Interest | |
---
Copyright © 2011-16 Benjamin Prepelka
All Rights Reserved