Scenic USA - Wyoming

Grand Teton National Park
---
---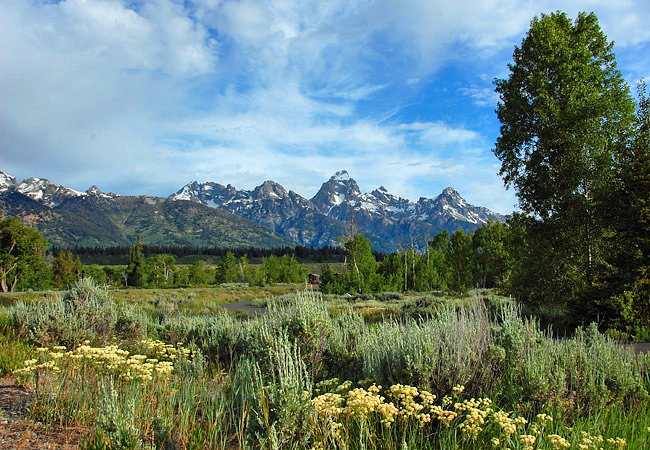 Grand Teton National Park, just south of Yellowstone National Park, has impressed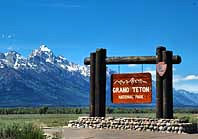 visitors with an unrivaled view of the Teton Mountain Range since its inception. Grand Teton, the highest of all, dramatically rises thousands of feet above the valley floor to an elevation of 13,770 feet.
John D. Rockefeller Jr. Highway connects Yellowstone to Grand Teton, a tribute to the generosity and vision of this remarkable philanthropist. Rockefeller was responsible for gathering together a large section of parkland in this beautiful area amidst a furor of ranchers and land holders. Putting together a series of real estate deals, Rockefeller's Snake River Land Company was able to amass 35,000 acres of Jackson Hole properties. Political wrangling and controversy surrounded the Grand Teton National Park project, a struggle that lasted several decades. Anti-park sentiments in Jackson Hole were so bitter and so contested, plans for the park were nearly scuttled. The Jackson Hole National Monument was eventually finalized thanks a pocket veto by President F.D. Roosevelt and united with Grand Teton National Park by President Harry S. Truman in 1950.
Today the 310,000 acre park is known for its spectacular mountain views, beautiful lakes and wide variety of wildlife ...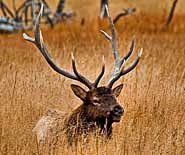 and the controversy surrounding the park has been mostly forgotten. Established in 1912, the National Elk Refuge in neighboring Jackson Hole provides winter habitat for 14,000 elk. Used as a nucleus to renew other elk herds across the country, the refuge sees nearly one million visitors annually. Jackson's town square, a place of relaxation and official town meetings, becomes the center for an antler auction each year. In the past, the auction was a boy scout fund raiser. Today, the elk's antlers are sold in lots to artisans, craftsmen and merchants, funding Jackson's elk feeding program which provides winter care for the great herd.

NPS Maps
---
| | |
| --- | --- |
| Additional Points of Interest | |
---
Copyright © 2006-16 Benjamin Prepelka
All Rights Reserved