Scenic USA - Wyoming

Mormon Row
---
---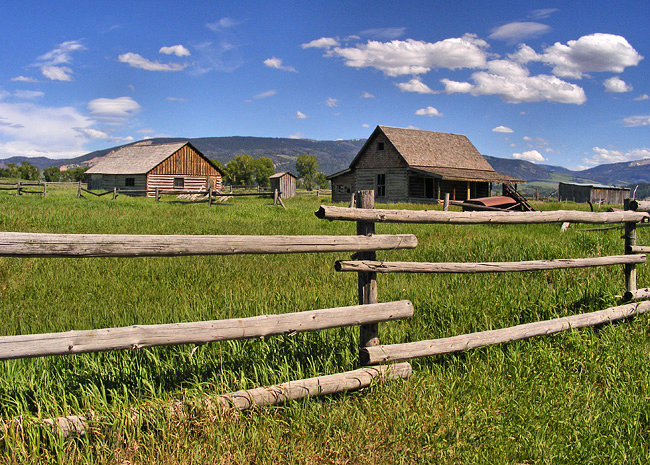 Any person willing to establish a farm,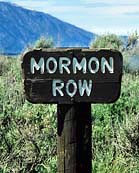 build a house and live on the land for five years was rewarded with ownership of 160 acres. This promise from the Homestead Act lured Mormon settlers to Jackson Hole in the 1890s. This fresh start was an opportunity to enjoy the American dream of a large farm on property of their own. We can only imagine that Mormons thought this was an ideal setting among the sagebrush flats, under Blacktail Butte and the majestic Teton Range to the west. The valley settlement was first called Grovont, but today this photogenic section of Grand Teton National Park is simply called Mormon Row.
   At first, traditional log cabins provided necessary shelter, evolving into more modern homes. Once a vibrant community, the few buildings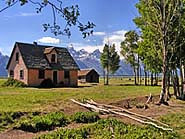 that remain are enough to create a clear image of these late 19th century ranches. Among the community's homes, churches and schools, the barns were the centerpiece of each property. Here they stored hay and 90 day oats, ensuring their cattle and horses survived Wyoming's harsh winters. Miles of hand-dug ditches brought water from the Gros Ventre River, enough to irrigate summer fields and provide the necessity of life to the Row. When ditches froze, water was brought from the river in buckets until hand-dug wells replaced this back-breaking task. In 1927, Kelly Warm Spring emerged after a powerful flood.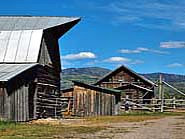 Called the Miracle Pond, from then on the community enjoyed a supply of fresh water throughout the entire year.
   Although these settlers worked very hard to eke out an honest living, the families also knew how to have a good time. Weddings, political meeting, harvest festivals and dances brought the community together at the Govont Church. In the winter, children ice skated and rode sleds. In the summer, swimming holes and berry patches became some of their favorite haunts. Here under the majestic Teton Range it's hard to imagine a more spectacular farm setting.

     Area Map
---
| | |
| --- | --- |
| Additional Points of Interest | |
---
Copyright © 2013-17 Benjamin Prepelka
All Rights Reserved