Scenic USA - Wyoming

Snake River
---
---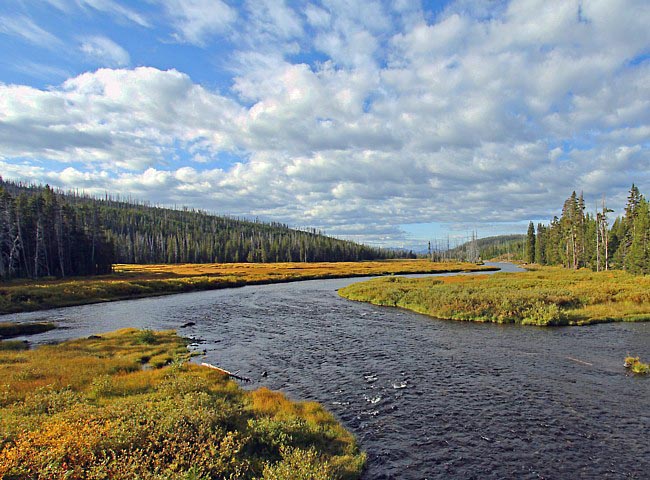 One of the largest rivers in western America, the Snake winds its way from the Grand Tetons in Wyoming and touches six states before it joins the Columbia River in Washington. Although the river snakes its way northward for 1078 miles, the name comes from a misunderstanding of a Shoshone Indian hand sign.
   Beginning as snowmelt on the Grand Tetons in Wyoming, the Snake River descends over 13,000 feet as it eventually heads northward. Despite its quick decent in an alpine region, the majority of its course cuts through wide, arid plains. As the Snake marks the border between Idaho and the western states of Oregon and Washington, the river creates one of the deepest canyons in North America. The awe-inspiring Hells Canyon is nearly 8000 feet deep as it passes under the Seven Devils Range.
   As the Snake River exits Jackson Lake (pictured here) in Wyoming and winds through Jackson Hole, the pristine waters are further enhanced by a backdrop of the majestic mountains of the Teton Range. First called the Mad River, this treacherous and impetuous stream was once too difficult to navigate.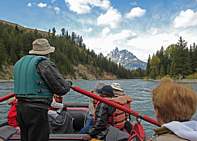 Now with modern equipment, Snake River excursions provide all degrees of river adventure. Whether it's a flat water scenic tour in the north or a class I-III whitewater run, nearly two dozen outfitters are ready to serve.
   The Snake River not only offers countless miles of recreation, the waters also irrigate farmland, especially along its middle and lower courses. The river is controlled with 15 dams, providing navigable channels, hydro electric power, and flood control. Studies indicate that restoring the lower Snake River's water quality and fisheries could lead to a significant economic benefit for the state of Washington. A restored Snake River would attract boaters, kayakers, canoeists and anglers, raising 230 to 360 million dollars of annual income.

    Area Map
---
| | |
| --- | --- |
| Additional Area Attractions | |
---
Copyright © 2011-16 Benjamin Prepelka
All Rights Reserved