Scenic USA - Washington

Joso High Bridge
---
---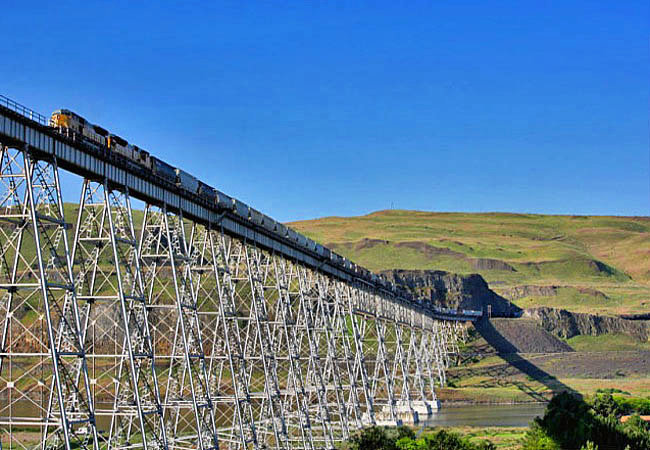 After the arrival of the Great Northern Railroad, initially connecting America's Midwest to the Pacific Northwest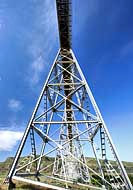 in the late 1800s, numerous short lines sprouted up, making local connections to many farming communities. Working together, advances in transportation spurred on farming production, also aided by favorable climate changes and increases in an overseas demand for grain during World War I.
Here in eastern Washington, the rugged terrain of the broad Palouse challenged railway construction. But its deep gorges and vast stretches of rolling hills failed to dampen railroad expansion. As competition heated up between railway companies, designers longed to straighten their branch lines, speed up freight deliveries and save equipment. In Walla Walla County, the North Coast Railroad envisioned a bridge across the Snake River Canyon. Arriving in 1910 at Lyons Ferry, the Missouri Valley Bridge and Iron Company began work on the longest and highest rail bridge in the world. Because of its remote location, a temporary construction camp was set up. Nearby rancher, Leon F. Jaussaud, furnished supplies to the workers from the Bar HU sheep ranch.
Completed in 1912 for a staggering sum of two million dollars, the 3920 foot long bridge incorporated 24 steel tower supports, and stands 260 feet above the Snake River. Construction was also costly in terms of human life. Workers succumbed to oxygen deficiencies as they dug 65 feet below the riverbed. Workers also fell from great heights during steel erection.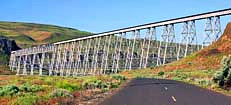 In the end, the Union Pacific subsidiary enjoyed the idea of shaving 52 miles and four and a half hours from a run that connected Portland to the center of the Inland Empire, Spokane.
Named for a well known area resident Leon Jaussaud, this marvelous engineering wonder carries the Americanized name of Joso Bridge. Because most people had difficulty pronouncing his French name, Jaussaud began spelling it Joso. Still an active branch of the Union Pacific, the bridge is used constantly to move coal and grain throughout the Columbia Plateau.

Area Map
---
| | |
| --- | --- |
| Additional Points of Interest | |
---
Copyright © 2011-15 Benjamin Prepelka
All Rights Reserved