Scenic USA - Utah

The Bears Ears
---
---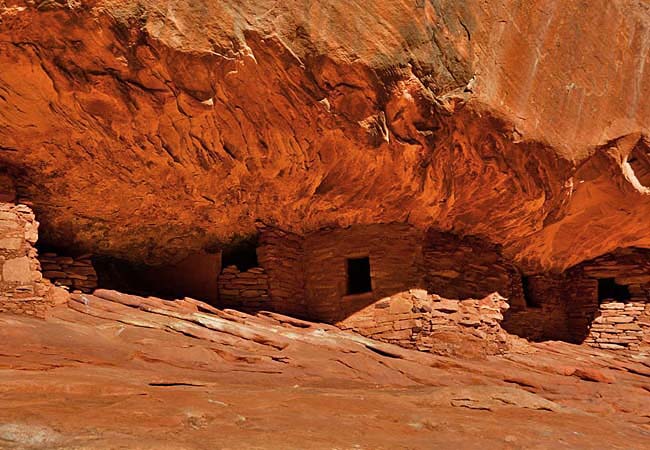 The scenic sights in Utah's southeast corner could easily fill a week's travel itinerary, and that's just hitting the highlights.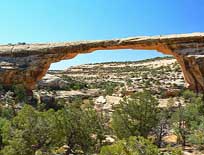 The area is covered in dramatic landscapes from all points of the compass. From east to west, visitors connect to the ancient past at Hovenweep and Natural Bridges national monuments. Following a north to south route, exceptional national parks include Arches National Park and two sections of the Canyonlands, then south to world famous Monument Valley.
   Pictured here are the Bears Ears, rising up over 8700 feet in elevation. It's here where a transition zone begins. The Bears Ears mark the southern boundary of the Dark Canyon Plateau and the high elevations of the Manti-La Sal National Forest. The splendor of mountain greenery is in great contrast to semi-arid lower elevations and red rock desert. The mountain shrub zone is sprinkled with sage brush, bluegrasses and mountain snowberry. The La Sal - Monticello forest land is a mix of confer and dense aspen groves. This area, alongside the beaten path, is home for elk, turkey and large mule deer.
    Utah Route 95, from Blanding to Natural Bridges National Monument, passes by the Bears Ears and the southern edge of the Dark Canyon Wilderness area.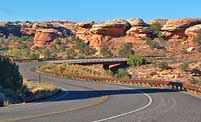 To the west is the Woodenshoe Canyon area ... and toward the northeast lies the Abajo Mountains, with Abajo Peak, the granddaddy of them all at 11,360 feet.
   Contrary to wishes of some state officials, President Obama set aside a huge chunk of southeastern Utah as the Bears Ears National Monument. Following the lead of Teddy Roosevelt, Obama used the powers of the Antiquities Act to preserve this sandstone wonderland. With the tens of thousands of archaeological sites and artifacts scattered throughout the wilderness, Native American Tribe are delighted to hear that this sacred land will be preserved for future generations.

    Area Map
---
| | |
| --- | --- |
| Additional Points of Interest | |
---
Copyright © 2007-15 Benjamin Prepelka
All Rights Reserved