Scenic USA - Utah

Grand Staircase-Escalante National Monument
---
---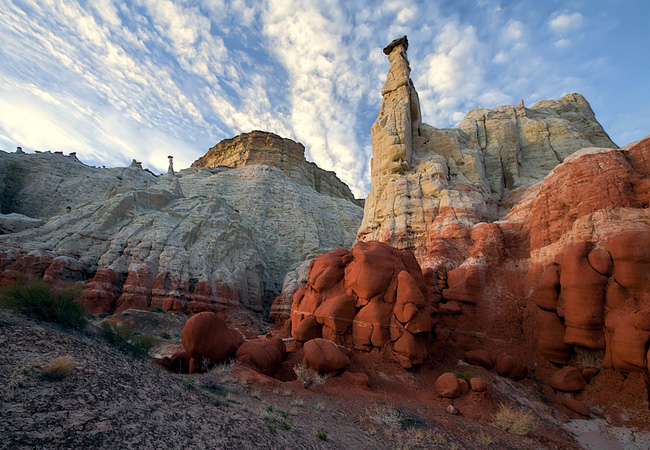 Using the power of the Antiquities Act, an immense tract of land covering nearly two million acres in southern Utah became a national monument in 1996.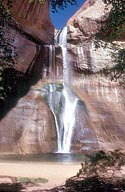 One of the most sparsely populated regions in the West, mining and commercial threats prompted President Bill Clinton to place the Grand Staircase- Escalante National Monument under the protection of the Bureau of Land Management.
   Beginning in the west, the Grand Staircase is simply the largest staircase one can imagine.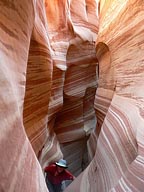 Rising over 6000 feet, alternating terraces and risers extend over 150 miles from the North Rim of the Grand Canyon to the Paunsaugunt Plateau near Bryce Canyon. Viewpoints of this staircase are limited and best seen from the air.
   Made up of three separate regions, the central section of the monument is called the Kaiparowits Plateau. This highly eroded land, made up of high country plateau, is dominated by Death Ridge. Transitioning from the arid desert floor, here, heavy forests of pinyon pine, juniper and ponderosa pine cover the higher elevations. Rugged and wild, black bear, mule deer and mountain lions have been sighted on the open benches.
   The Escalante Canyons,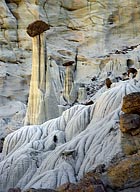 the easternmost region, includes some of the most remote and beautiful country in the southwest. Virtually unexplored by non-Natives until the late 19th century, the Escalante was the last river to be named in the continental United States. Known for its highly eroded sandstone topography, nature has created a wonderland of slot canyons, natural bridges, arches, waterfalls, stone toadstools, goblins and hoodoos.
   It would be impossible to explore this huge geologic wonderland on your own, but luckily many backcountry travelers have shared their secrets with the rest of the world.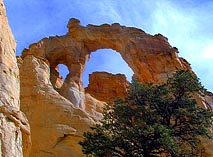 Some of the monument's Indian ruins, dinosaur bones, water-falls, balancing rocks, petrified forests and slot canyons attract photographers from all around the globe. One of the more popular photo destinations near Big Water is the incredible Wahweap Hoodoos (inset) and Rimrock Hoodoos, carved from 160 million year old white sandstone.
   To aid backcounty explorers, there are five visitor centers and contact stations spread throughout this vast land. With 15 major trailheads, national monument visitors are able to explore some of the wildest lands in America.

     Area Map
---
Nearby Points of Interest
---
Copyright © 2013-16 Benjamin Prepelka
All Rights Reserved