Scenic USA - North Carolina

Bridal Veil Falls
---
---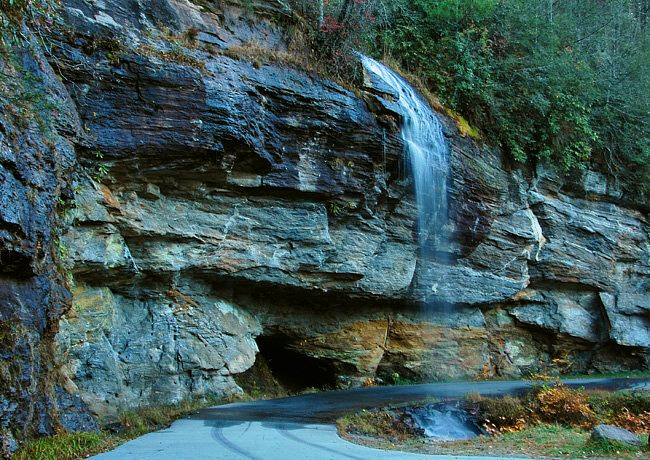 Located at the edge of the highway, North Carolina's U.S. Route 64, Bridal Veil Falls is the only waterfall in the state that you are able to drive under.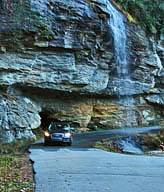 A small roadside detour curves under Bridal Veil Falls, one rare opportunity that's hard to pass up. Surrounded by the Nantahala National Forest, the 45 foot waterfall is located along one of the state's most scenic byways. With over 200 waterfalls in the area, North Carolina has dubbed this section of Route 64 as the Waterfalls Scenic Byway.
   From Lake Toxaway, where the Toxaway River crosses Route 64 and creates Toxaway Falls, this major route heads westward toward the town of Highlands. Winding through this rugged terrain, byway travelers may as well enjoy the scenery as driving here is slow going.
   Two more roadside waterfalls on the Cullasaja River are just beyond Bridal Veil Falls. Dry Falls, with its much improved parking lot and falls access ramp, is one sight not to pass up.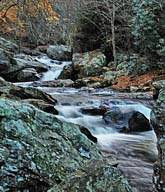 Don't let the name Dry Falls fool you, this 75 foot falls will seldom disappoint. The name only indicates that sightseers may walk behind the waterfall without getting wet.
   Six mile west of Dry Falls marks the beginning of the Cullasaja Gorge, earning another byway distinction from the National Forest Service. This section of Route 64 follows the Mountain Waters Scenic Byway. Here itís difficult to see, but just below the edge of the road, Cullasaja Falls drops 310 feet in a half mile cascade. A very narrow pull out is your only clue to this impressive series of cascades and Cullasaja Falls. There is no access area provided at this stop as the highway is barely wide enough for two lanes of traffic. So if you're an avid waterfall fan, or just traveling nearby, this scenic section of the Land of the Noonday Sun (Nantahala) provides well over 1/2 million acres of mountain lands to enjoy.

    Area Map
---
Nearby Points of Interest
---
Copyright © 2013-15 Benjamin Prepelka
All Rights Reserved