Scenic USA - Utah

Kodachrome Basin
---
---
Southern Utah is filled with scenic wonders stretching from the eastern border at Arches National Park to the west at Snow Canyon.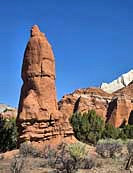 Here on the northern track of the Grand Circle, this southern section of the state is well known for its majestic national parks. Close to the town of Tropic, it's Bryce Canyon National Park that draws the most attention. One of the lesser scenic wonders nearby is Kodachrome Basin, a popular state park located near Cannonville.
The park was dubbed Kodachrome Basin by a National Geographic team in 1949 while using a new brand of Kodak color film. The Kodachrome Basin State Park features a wide variety of unusual features called spires or sand-pipes.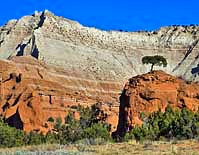 These chimney-shaped towers of rock, some reaching as high as 170 feet, are thought to be remnant spring vents filled with wind-blown sedimentary rock powder which eventually hardened. The surrounding, soft Entrada sandstone has worn away, leaving the towering rock chimneys.
The background scenery here in the basin is tinted in multi-colored shades of white, pink, yellow and reds. Colors shift with the movement of the sun, deepening at sundown and offer an ever-changing scenic backdrop for the basin's sand-pipes and chimneys. Hiking trails, ranging from easy to moderate and some as short as a half mile and other loops as long as six miles, are the best way to enjoy the outstanding basin scenery.

Area Map
---
| | |
| --- | --- |
| Additional Points of Interest | |
---
Copyright © 2006-15 Benjamin Prepelka
All Rights Reserved