Scenic USA - Utah
Scenic USA offers a collection of select photographs from a wide variety of attractions, points of interest, historic sites, state and
national parks found throughout the United States. Each photo feature is coupled with a brief explanation.
For further detailed information, links to other related sites are provided.
Grosvenor Arch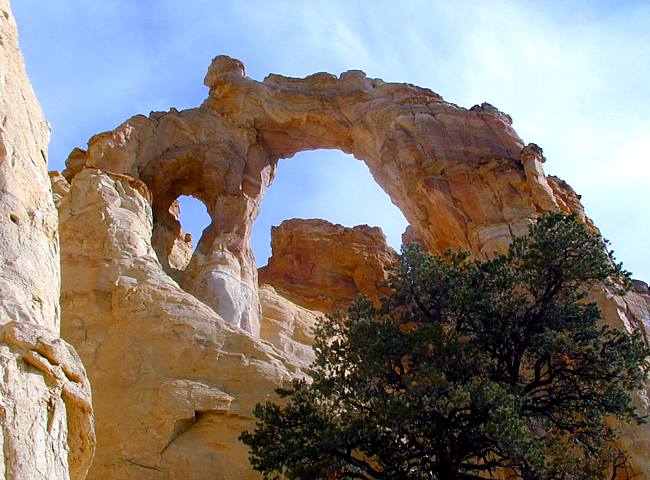 Grand Staircase - Escalante National Monument dominates a large southern portion of Utah, taking in almost two million acres. A relatively new addition to fall under federal protective custody, the Grand Staircase landscape joined the park's ranks in 1996. The giant stair-steps are made up of three distinct sections, Paunsaugunt, Kaiparowits Plateaus and the Escalante Canyons, stretching out nearly 100 miles.
This rugged land (some of the last sections of America to be mapped) is characterized by bold plateaus, multi-colored spires, majestic cliffs and impressive wide-open distances. A local highway drops into Kodachrome Basin State Park from Cannonville. Just passed the park, a dirt track continues on, out into Escalante National Monument and along Cottonwood Canyon Road. One of the rock features found along the trail is Grosvenor Arch, pictured here. The arch was carved into Utah's White Cliffs, a distinct layer of sandstone, creating an opening of 60 feet and reaching a height of 90 feet. Gilbert Grosvenor was National Geographic Society's president until his retirement in 1996. A 1940s National Geographic expedition made their way through the area and saw it fitting to name the arch after Grosvenor.
---
Copyright ©2007 Benjamin Prepelka
All Rights Reserved