Scenic USA - Georgia
Scenic USA offers a collection of select photographs from a wide variety of attractions, points of interest, historic sites, state and
national parks found throughout the United States. Each photo feature is coupled with a brief explanation.
For further detailed information, links to other related sites are provided.
Panther Falls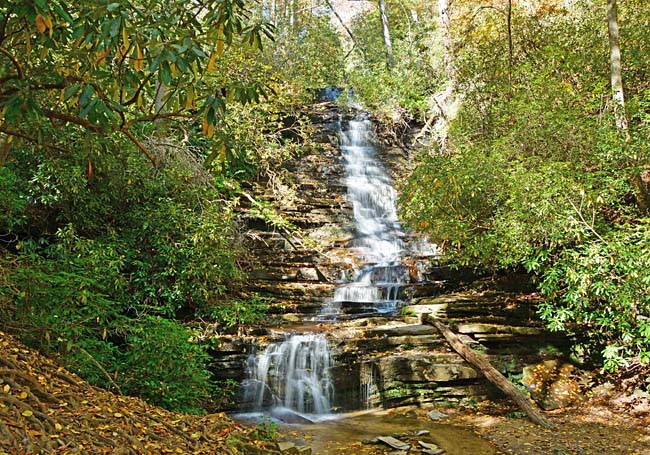 You'll find the North Georgia's hills are a great location for family fun and outdoor recreation. Mountain lakes and streams are scattered through out the countryside, and park planners have taken full advantage of these picturesque sites.
Rabun Beach Campground is no exception. The valley camp near Clayton is divided into four sections, with three set aside for camping and the other for day use. Rabun Lake activities include beach area swimming, and all types of boating, fishing and water sports. Picnic sites are scattered about for the hungry lunch bunch.
One of the most popular attractions leads adventurers on a hiking trail that parallels one of those beautiful Georgia mountain streams. This family hike leads to two waterfalls, well within easy reach. The Angel Falls trail keeps youngsters busy until arriving at Panther Falls, found about midway along the mile and a half pathway. Here the tiered falls, with its rock ledges, is the perfect spot for a family photo. Those in the group with a little extra energy can take the steeper trail on to Angel Falls, satisfying any lingering curiosity.
Copyright ©2009 Benjamin Prepelka
All Rights Reserved