Scenic USA - Georgia

Tallulah Gorge
---
---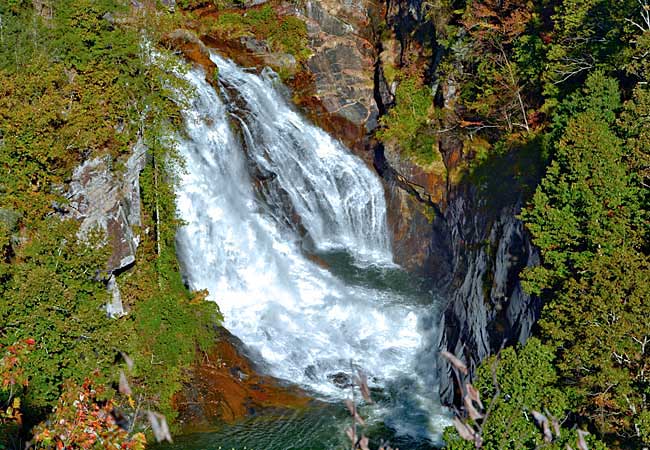 One of the most popular tourist destinations in America's Southeast was Tallulah Gorge. While Native Americans referred to the chasm as simply Tallulah,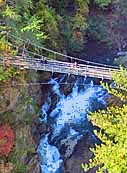 promoters began using descriptive slogan Niagara of the South. Once the Tallulah Falls Railroad was established in 1882, those thousand visitors a year soon became thousands a week. The resort town of Tallulah Falls grew quickly, adding hotels and taverns to both sides of the gorge.
The raging river, with its impressive string of waterfalls, dried to a trickle in 1912 when Georgia Power completed a hydro-electric dam upstream of the gorge. The project had its vocal opponents, but the political powers in charge were not swayed. The deal was already cut, and tourism dwindled along with the vanishing water.
Georgia Governor Zell Miller pushed to create a new state park around the gorge in 1993. Working with Georgia Power Company, various water releases were scheduled throughout the year, partially restoring the falls to their former grandeur. Today various degrees of water releases continue, classified as whitewater and aesthetic.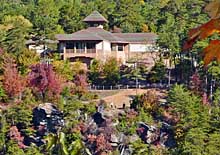 This view of Hurricane Falls was capture during an aesthetic release, averaging 200 cubic feet per second. Whitewater releases are boosted from 500 to 700 CFS, depending on the day.
Two trails follow the north and south rims with a crossover footbridge just below the Jane Hurt Yarn Interpretive Center. It's not a strenuous walk down the stairs (310 steps) from the VC, but the climb up to the South Rim Trail includes about 570 steps. It's possible to descend into the gorge with proper permits, but on dates when releases are scheduled no hikers are allowed into the gorge. Nearly a dozen overlooks are scattered all along both rims, allowing views of all five named waterfalls. These waterfalls are a sight to behold when the river is flowing with water releases. Waterfall fans - be sure to check the schedule for release dates, occurring during April and May, and September, October and November. While sightseeing, rock climbing, kayaking and hiking are the main draws to the park, there is a 63 acre lake for fishing and swimming. Camping and picnicking are also favorite park pastimes.

Area Map
---
| | |
| --- | --- |
| Nearby Points of Interest | |
---
Copyright © 2007-16 Benjamin Prepelka
All Rights Reserved