Scenic USA - Ohio
Scenic USA offers a collection of select photographs from a wide variety of attractions, points of interest, historic sites, state and
national parks found throughout the United States. Each photo feature is coupled with a brief explanation.
For further detailed information, links to other related sites are provided.
Everett Road Bridge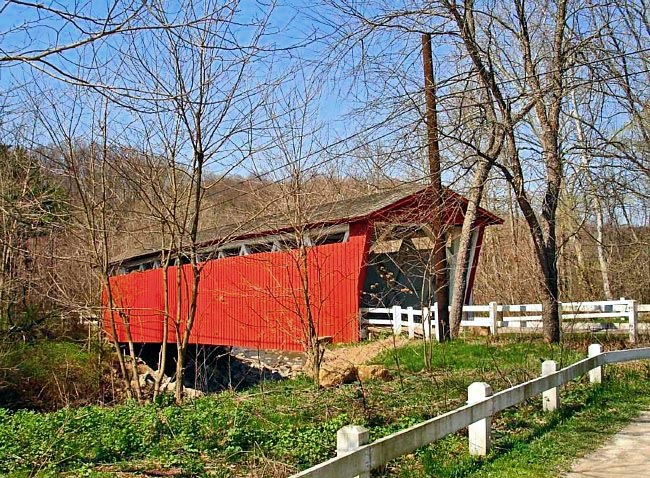 A flashy shade of vermilion paint brightens the Everett Road Covered Bridge in the Cuyahoga Valley National Park near Richfield, Ohio. The story behind the 100-foot Everett Road bridge begins well before the bridge was first built. It seems that John Gilson and his wife were returning to their home after visiting friends, and took the short route that crosses Furnace Run. Because Furnace Run cut through the roadway, travelers were required to ford the river. While trying to navigate the watery passage, Mrs. Gilson was thrown from her horse into the rough, icy waters. When her husband tried to save her, his horse panicked and dragged him into deeper water. Although passers-by rescued his wife, John Gilson was drowned. As with any tragic accident, local residents were moved to pursue, once again, their interest in a bridge. Soon after their requests were answered with a handsome covered bridge.
The current Everett Road Bridge, featuring a Smith Truss design, was totally rebuilt in 1986. The original, surviving a 1913 flood, wrecked by a truck in 1970, finally bit the dust in 1975 springtime storm. Although some folks wanted the replacement to be more modern, the historic covered bridge won out.
The park itself is Ohio's only national park, and its 33,000 acres are filled with something for just about everyone. The park is named for the snake-like Cuyahoga River. For the curious, the name Cuyahoga is an American Indian word for crooked river. The park's terrain varies from ravines and rolling hills to thick forests. The in-betweens are laced with hiking trails, a scenic railroad line, the historic Hale Farm & Village, remains of the once-important Ohio-Erie Canal, art exhibits and a popular outdoor concert venue, the Blossom Music Center.
Copyright ©2008 Benjamin Prepelka
All Rights Reserved