Scenic USA - Georgia

Black Rock Mountain
---
---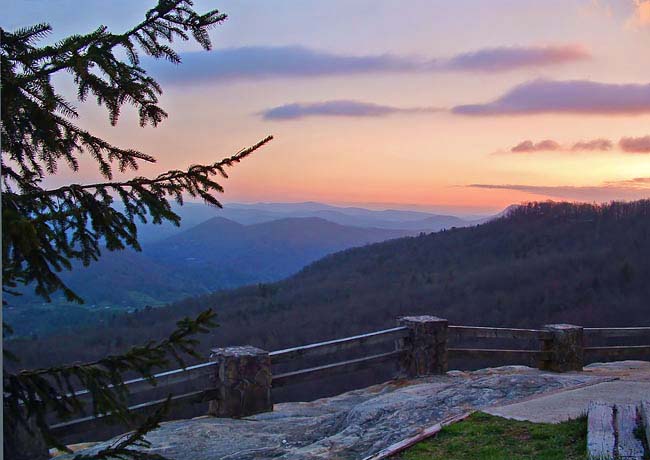 Split by the Eastern Continental Divide,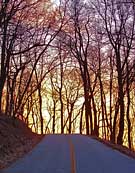 Black Rock Mountain State Park is located in the northeast Georgia mountains. Here, the eastern Blue Ridge Mountains reach maximum height of 3640 feet, securing the claim of the highest park in the state.
   Turning west onto Black Rock Road from Georgia's Mountain City on U.S. 441, a twisting, narrow road quickly climbs a steep grade to the mountain top section of the park. Scenic overlooks on Black Rock Mountain offer broad views into the neighboring states of North and South Carolina. On some clear days visitors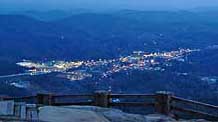 may be able to catch sight of Tennessee's Unicon Mountain peaks about 60 miles to the northwest.
   Hidden by a dense forest, rock outcroppings found throughout the park are made of biotite gneiss, a black metamorphic rock. Made up from one of the oldest land masses on earth, the mountain's bedrock is probably over a billion years old. Seen from a distance, the shear dark granite mountain wall quickly identifies where the Black Rock name originated.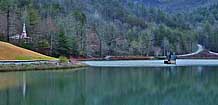 The park has grown in size since its inception in 1952, now totaling 1800 acres. Four hiking trails are woven into the parkland, ranging from a very short trail to Ada-Hi Falls, to the lengthy Edmonds Backcountry Trail. An easy trail, great for children, follows the near level shoreline around Black Rock Lake, featuring a small stream and waterfall. Actually designed to provide fishing access, the half mile loop is a great adventure for younger children. Camping is available in the park, ranging from typical RV/tent sites to a rustic walk-in pioneer camping experience.

    Area Map
---
| | |
| --- | --- |
| Additional Points of Interest | |
---
Copyright © 2008-17 Benjamin Prepelka
All Rights Reserved