Scenic USA - South Carolina
Scenic USA offers a collection of select photographs from a wide variety of attractions, points of interest, historic sites, state and
national parks found throughout the United States. Each photo feature is coupled with a brief explanation.
For further detailed information, links to other related sites are provided.
Chattooga River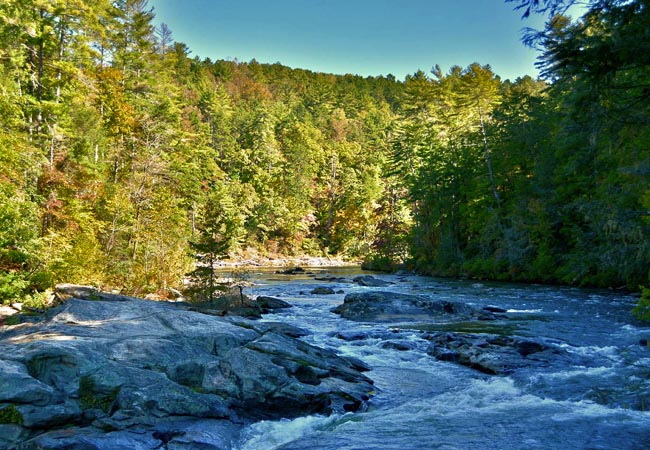 The Chattooga River may have been added to the National Wild and Scenic River inventory just in time. Known to only a few hundred whitewater river rafters in the 1960s, the 1970s book and motion picture, Deliverance, introduced the Chattooga to remainder of America.
Criteria for National Wild and Scenic River stipulates that the river be free

flowing, generally inaccessible and essentially primitive, and unpolluted. The task force began its study on the Chattooga in 1969. Its designation of wild and scenic was applied in May, 1974. It wasn't long until 50,000 whitewater enthusiasts flocked to the Georgia / South Carolina border, enjoying a lazy ride on the upper sections of the Chattooga. Section IV, just below U.S. Route 76, is where the Chattooga is the best. Sections of class IIIs and IVs are common. Pictured here is the beginning of section IV, were rafter are slowly introduced to the basics. Further downstream is a stretch of class VI rapids, exhibiting some of the most exciting whitewater in the southeast, coupled with some of the Sumter National Forest's most scenic portions of the river. With today's rafting crowds surpassing 100,000, it should not be totally unexpected that this dangerous part of the river has claimed two dozen river rafters, known as the Deliverance Syndrome.
Copyright ©2008 Benjamin Prepelka
All Rights Reserved