Scenic USA - Georgia
Scenic USA offers a collection of select photographs from a wide variety of historic sites, points of interest, and both state and
national parks found throughout the United States. Each photo feature is coupled with a brief explanation.
For further detailed information, links to other related sites are provided, but in no means are they an endorsement.
Dahlonega Gold Museum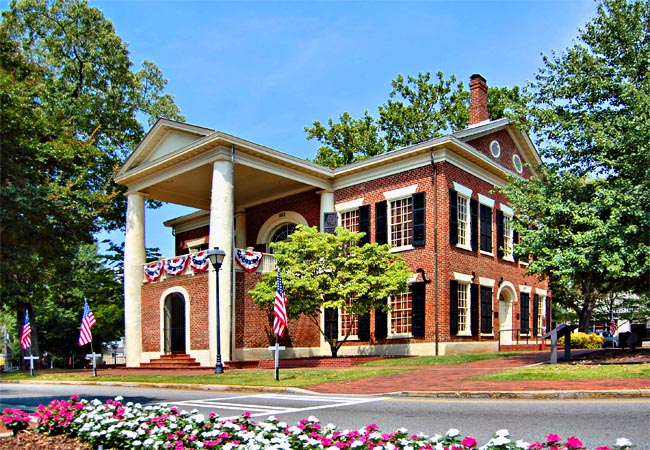 Most American history students are very familiar with the 1848 Gold Rush in California and the famous Comstock Lode in Nevada, but they may be surprised about an earlier gold rush in the Blue Ridge Mountains of Georgia. Here in Cherokee Indian Country, in today's northern Georgia, a gold discovery in 1828 sparked a flood of fortune seekers. Illegal claims and land annexations soon lead to the creation of a new Lumpkin County, with Dahlonega (meaning yellow or gold) as the County Seat. During the first ten years more than 1.7 million dollars of gold bullion was shipped to the Philadelphia Mint. By 1838, a branch of the U.S. Mint opened in Dahlonega, coining more than 6 million dollars in gold over the next 20 years.
Today's Dahlonega Gold Museum served as the Lumpkin County Courthouse for nearly 130 years. The courthouse building, located in the town square, is one of the oldest surviving courthouse buildings in America. The museum displays present many gold rush artifacts, including gold nuggets and coins, gold panning equipment and stamp mill models. In contrast with today's extreme prices of gold, one of the museum charts shows production totals from the days when gold sold for 15 dollars per ounce.
Copyright ©2010 Benjamin Prepelka
All Rights Reserved