Scenic USA - Arizona
Scenic USA offers a collection of select photographs from a wide variety of attractions, points of interest, historic sites, state and
national parks found throughout the United States. Each photo feature is coupled with a brief explanation.
For further detailed information, links to other related sites are provided.
Mescal Mountain View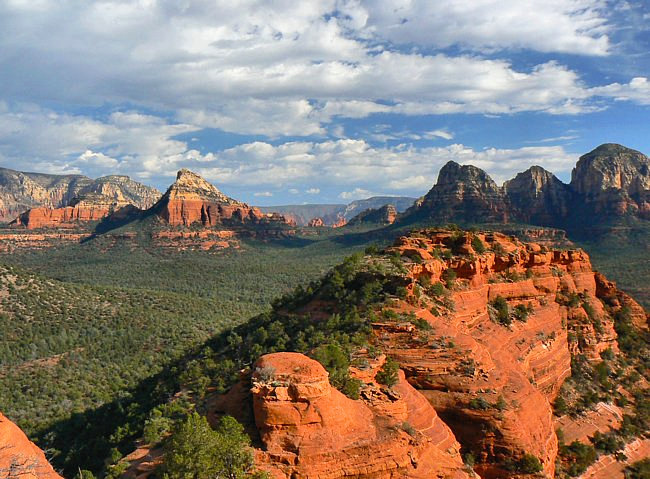 Deadman's Pass and Long Canyon Trail; these two paths cut through the Secret Mountain Wilderness and over ancient homelands of the Sinagua Indians. The Sinagua roamed present day Sedona between 500-1300 CE, and traces of their shelters and pictographs still survive in this arid land.
Deadman's Pass Trail is a moderate 3 mile (R/T) hike that leads to the top of Mescal Mountain, where a dramatic Sedona panorama unfolds. Long Canyon Trail follows an old 4-wheeler road for the first mile. A scramble up to Mescal Mountain Peak from the north showcases this breathtaking redrock vista, looking over Arizona's Lost Wilson Mountain, Steamboat Rock and the Grassy Knolls.
For novices in the Sedona area, a topo map, GPS and plenty of water are a few of the essentials. The wilderness route, just off Long Canyon Road, can be a great sampler of Sedona's marvelous landscape. For those exuberant souls that feel the urge to break outside life's restricting lines, remember to take the trail, wilderness plants and soils are fragile, and it's hands-off when it comes to delicate petroglyphs and Indian ruins.
Copyright ©2007 Benjamin Prepelka
All Rights Reserved