Scenic USA - Texas

Queen of the Missions
---
---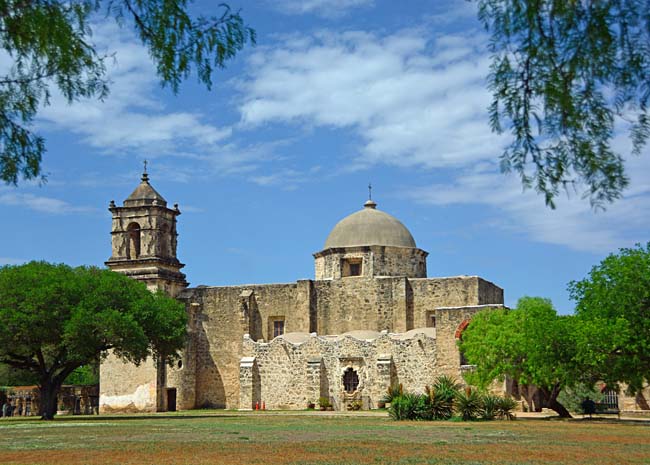 Spain's influence, beginning in the 16th century,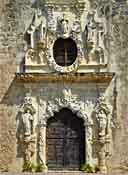 is intricately woven throughout the culture of America's Southwest. As the majority of Mexico's wealth was uncovered and exploited, soldiers and missionaries moved northward to establish missions throughout Arizona and New Mexico, adding Native converts along the way. During the late 1600s, the French moved southward along the Mississippi River Valley, toward present day Louisiana. Spain kept a watchful eye on the French movement and saw present day Texas as a buffer zone between its interests to the west, leading to Spanish presidios and missions along the San Antonio River.
Today the missions of San Antonio remain as fine architectural examples of the Spanish era of Colonialism.
Four of the five remaining missions continue as active parishes of the Catholic Church and hold regular church services. All four mission centers of the San Antonio Missions National Historic Park are open to the public and offer free tours lead by park rangers.
Pictured here is Mission San José y San Miguel de Aguayo, the Queen of the Missions, founded in 1720. Considered a model among the Texas missions, San Jose was the largest of all the San Antonio missions.
The church structures, including stone walls,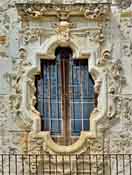 bastions, granary, and the magnificent church date back to the late 1700s. The church's rich facade, topped with a shapely dome, immediately captures the visitor's attention. Another feature, the La Ventana de Rosa (Rose Window), is considered one of the finest examples of baroque architecture in North America.
Falling into disrepair over the years, the San Antonio Conservation Society and Works Progress Administration in the 1930s were responsible for a large portion of the restoration work of the church and mission. Declared a State Historic Site and National Historic Site in the early 1940s, the mission has become a lasting symbol of the early Spanish mission era.

San Antonio Missions Map
---
More San Antonio Missions

Additional Points of Interest
---
Copyright © 2007-15 Benjamin Prepelka
All Rights Reserved