Scenic USA - Colorado
Scenic USA offers a collection of select photographs from a wide variety of attractions, points of interest, historic sites, state and
national parks found throughout the United States. Each photo feature is coupled with a brief explanation.
For further detailed information, links to other related sites are provided.
Mount Zirkel Wilderness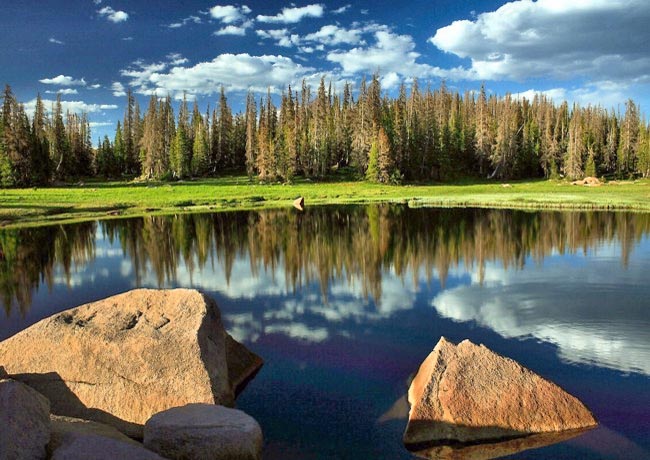 The cover of Colorado's state road map alludes to a land of scenery and adventures, which aptly describes the Mount Zirkel Wilderness. Initially formed with the 1964 Wilderness Act, additional acreage has since been incorporated and now tops 150,000 acres. The wilderness area is located among Park Range, split by the Continental Divide, characterized by fast flowing mountain streams and dotted with glacial lakes. This Rocky Mountain land ranges from 7,000 to 12,000 feet elevation and its highpoint is the wilderness namesake, Mount Zirkel. The entire area, north of Steamboat Springs, has been plagued with beetle infestation, but in this mountain lake reflection, a few subalpine firs display their resistance.
   This striking glacial lake scene, part of the Seven Lakes area, shows the reason for its popularity. Unfortunately, trout anglers have placed an ever increasing pressure on Colorado's mountain lakes, burdening the state fishing and game personnel with an additional task of aerial restocking. Apart from fishing, the Zirkel Wilderness is covered in spectacular scenery, abundant wildlife, lush mountain meadows and wondrous mountain peaks.

    Area Map.
Copyright ©2007-17 Benjamin Prepelka
All Rights Reserved