Scenic USA - California
Each day Scenic USA presents a new and exciting photo feature from somewhere in the United States. Chosen from a wide variety
of historic sites, city scenes, backcountry byways, points of interest and America's best parklands, this site offers the viewer hundreds
of unique travel destinations and vacation ideas. Each feature is coupled with a brief explanation. For further detailed information, links
to other related sites are provided, but are never to be considered an endorsement.
Evolution Lake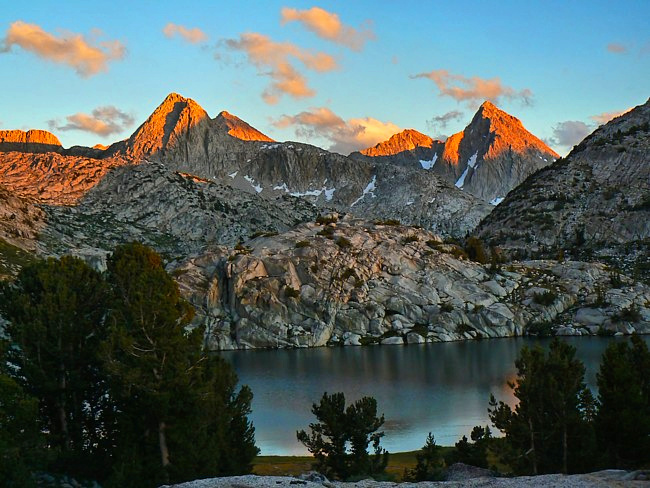 Kings Canyon National Park, located nearby the forever popular Yosemite National Park, is made up of two sections. The smaller of the two, General Grant Grove, protects the largest natural grove of giant sequoia trees. Covering 3100 acres, this section of the park and the grove are easily accessed over paved highways. The remainder of Kings Canyon Park can only be reached over Route 180 (Kings Canyon Scenic Byway). This route only allows auto travel to a very small percentage of the park, leaving the remainder of the wilderness for those traveling on foot.
This stunning view of Evolution Lake gives some idea of why Kings Canyon hiking permits are in such great demand. Here in Evolution Basin, this High Sierra country is most famous for its massive pyramid-shaped peaks, mountain meadows, alpine lakes and clean alpine air. Far from any traffic noise and city lights, the night sky is filled with an untold number of stars, the glow of the Milky Way and a lonesome howl of the coyote.
Reaching Evolution Lake and the beautiful Evolution Creek Cascade can be as easy as a multi-day hike departing from the Florence Lake Trailhead. Taking in about 45 miles of the western side of Kings Canyon wilderness land, hikers may save about five miles taking the ferry across Florence Lake. Other John Muir Trail hikers may spend as long as a month to enjoy every facet of this section of High Sierra country.
Copyright © 2011 Benjamin Prepelka
All Rights Reserved