Scenic USA - California
Scenic USA offers a collection of select photographs from a wide variety of historic sites, points of interest, and a large
sampling of America's parklands. Each photo feature is coupled with a brief explanation.
For further detailed information, links to other related sites are provided, but in no means should they be considered an endorsement.
John Muir Trail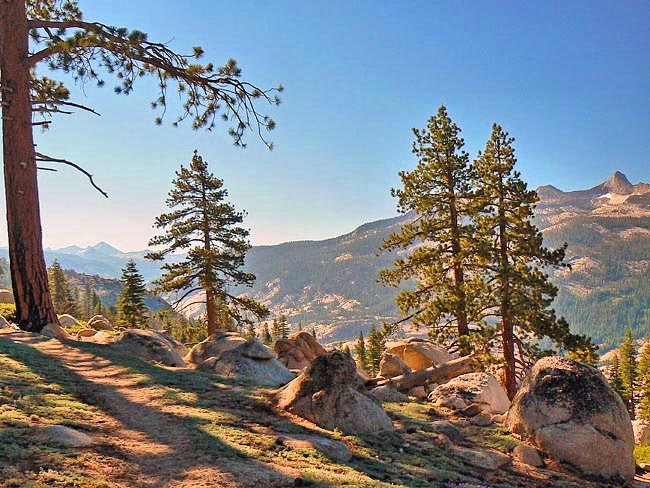 Conceived in the late 1800's, the 212 mile John Muir Trail (JMT) follows the backbone of the High Sierra in eastern California. Initial appropriations from the California legislature managed to complete all but two difficult sections by the time the Great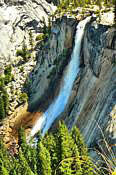 Depression brought construction to a halt. After 46 years in the process, William Colby, secretary of the Sierra Club, announced the trails completion, a fitting tribute to the man that called this region of the High Sierra home.
With trail reservations made, hiking permits secured, supplies safely in place, and a detailed plan mapped out, Rob and his hiking companions set off on a 28 day adventure on the John Muir Trail. Although words are inadequate and photographs are an injustice, most national park guests are not up to this challenging trek and must rely on glimpses of this magnificent land at the Devil's Postpile National Monument, Yosemite and Kings Canyon national parks, and the Whitney Portal.
As the majority of JMT hikers take a north to south trail heading, day one begins with a harsh introduction, a climb of nearly 4000 feet. Here, the unyielding granite domes and monoliths of Yosemite create a grand backdrop for the deep valley. As hikers and backpackers pass Nevada Falls (inset), John Muir's 19th Century adventures inspire those weary legs as they strain under a full pack.
Copyright ©2011 Benjamin Prepelka
All Rights Reserved