Scenic USA - Washington
Each day Scenic USA presents a new and exciting photo feature from somewhere in the United States. Chosen from a wide variety
of historic sites, city scenes, backcountry byways, points of interest and America's best parklands, this site offers the viewer hundreds
of unique travel destinations and vacation ideas. Each feature is coupled with a brief explanation. For further detailed information, links
to other related sites are provided, but are never to be considered an endorsement.
Moran Mansion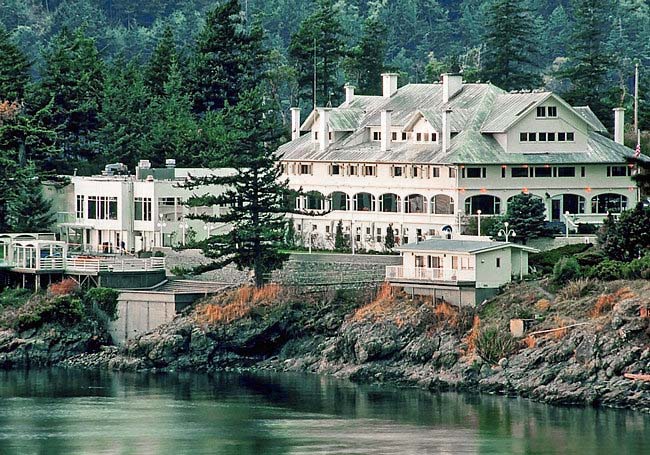 Thought to be one of the most picturesque settings in the San Juan Islands, Eastsound, the heart of Puget Sound's Orcas Island, offers its visitors and residents plenty of entertainment. Known for its fine dining, shops, galleries, community theater and bustling farmers market, Orcas Island is a wonderful mix of lush forests, farming valleys, peaceful lakes and stunning mountains. Here on Cascade Bay visitors will find the Rosario, the island's largest resort and spa.
Built by shipbuilder and former Seattle mayor, Robert Moran, the Moran Mansion at the Rosario takes its guests back to another century. Completed in 1906, the mansion features original furnishings and fixtures of the early 20th century. Visitors may also enjoy the extensive collection of ships built by the Moran Brothers Shipyard in Seattle.
In 1932, Robert Moran writes of his estate in the Pacific Northwest, "Itís a wonderful place in which to forget one's troubles and worries and get back to Nature in her happiest moods; a delightful place in which to regain physical, mental and spiritual health". If this sounds a little like a quote from John Muir, it would come as no surprise. When Robert Moran first arrived in Seattle without a dime, one of his first jobs was a ship's engineer. Here he had the pleasure of working on several of John Muir's Alaska expeditions. In this rags to riches story, Moran went on to become the largest employer in Seattle.
Copyright © Benjamin Prepelka
All Rights Reserved