Scenic USA - Arizona
Scenic USA offers a collection of select photographs from a wide variety of attractions, points of interest, historic sites, state and
national parks found throughout the United States. Each photo feature is coupled with a brief explanation.
For further detailed information, links to other related sites are provided.
Cottonwood Teepees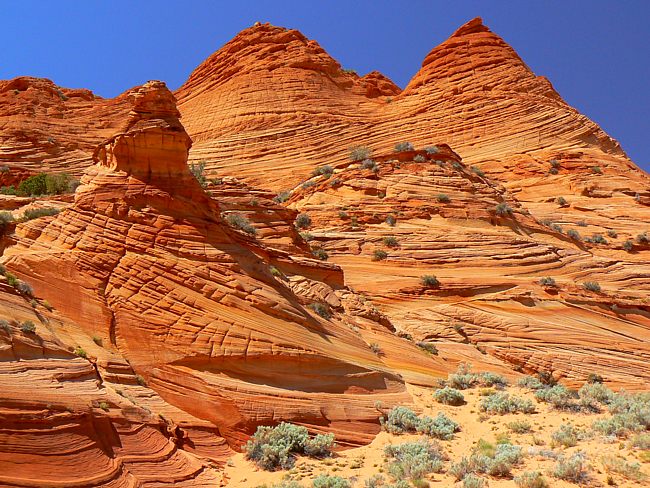 The Bureau of Land Management directs all Coyote Butte visitors to expect the WILD! No doubt there are some wild and spectacular landscapes in this southwestern desert. Aside from wild, the Paria Wilderness area is also unforgiving, with no distinctive trails, no trail signs, or facilities. Summertime temperatures can peg out any

ordinary thermometer and thunderstorms can mire access roads. All of this wildness doesn't deter many visitors as they scramble for limited permits. Why? It has to be the colorful, stunning beauty of these Vermillion Cliffs.
This view along the South Coyote Butte's Cottonwood Teepee Trail reveals some of the scenic beauty found on the Utah-Arizona border. Vivid earth-tone hues, swirling sandstone shapes and fragile rock layers offer a few great reasons to step on out into the wild!
Copyright ©2007 Benjamin Prepelka
All Rights Reserved