Scenic USA - Arizona

Glen Canyon National Recreation Area
---
---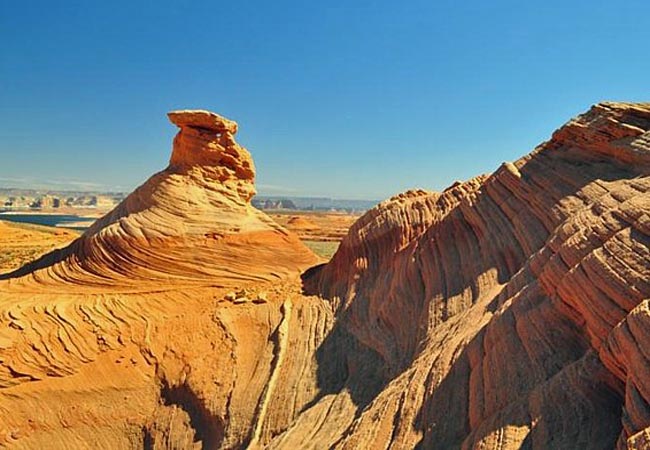 Photo by Ken Reece
Inset photos by Rod Ostoski
   Surrounding the canyon it was named for,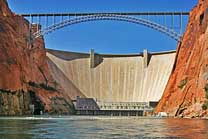 the Glen Canyon National Recreation Area follows the Colorado River for 180 miles from the Orange Cliffs, near Canyonlands National Park in Utah, across the Arizona border to Lees Ferry. Before 1963 the Colorado River moved through Glen Canyon unabated. Today, plenty of hostility is still directed toward Glen Canyon Dam for taking away "our canyon" and creating a cesspool called Lake Powell. Opponents guess if Major John Wesley Powell were alive, he'd been vehemently opposed to the Glen Canyon Dam project. Human impact on this fragile environment is also significant, considering the large number of visitors every year.
   Both sides of this controversy argue over a million acres of recreation land and the second largest reservoir in America, a body of water which doubles as a huge aquatic playground in a stark desert environment. Its inviting blue waters are the obvious draw, but hundreds of miles of scenic drives cut through a land of colorful buttes, towering cliffs and dramatic mesas. On the plus side, this protected land holds a rich abundance of adaptive plants and desert animals.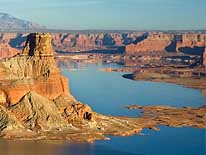 Over 300 species of aquatic creatures and migratory birds have also been identified in the region.
   The Arizona section is home to the historic site of Lees Ferry. In 1864 a group of Mormons set up the first ferry crossing, paving the way for settlers into a new Arizona territory. This picturesque scene captures the beauty of colorful sandstone with a glimpse of the contrasting Colorado waters. Here, only a minute portion of Glen Canyon NRA resides in Arizona. If one were to drive around the entire recreation area, the route would cover 650 miles.

    Scenic Byway Route
    NPS Map
---
---
Copyright © 2010-17 Benjamin Prepelka
All Rights Reserved