Scenic USA - Arizona
Scenic USA offers a collection of select photographs from a wide variety of attractions, points of interest, historic sites, state parks and
national parks found throughout the United States. Each photo feature is coupled with a brief explanation.
For further detailed information, links to other related sites are provided.
Vermilion Cliffs
Fitting snuggly between U.S. Route Alt-89 and the Utah border, the Vermilion Cliffs National Monument includes a spectacular swath of towering cliffs,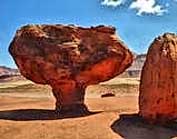 breathtaking canyons and miles of unforgiving desert. Here, just north of the Grand Canyon, nearly 300,000 acres of red-rock desert make up the Paria Canyon-Vermilion Cliffs Wilderness. This rugged land is home to desert bighorn sheep, herds of pronghorn and 20 species of raptors. Its hardy reptile residents and desert plants are also well suited for this desert environment. Monument visitors, unaccustomed to this climate, should heed all the warnings of potential hazards. These enchanting cliffs have a way of drawing in unsuspecting sightseers, eager to take up hiking, camping and backpacking. Be sure to check the BLM Contact Stations for permits, fees and visitor limitations.
With limited signage, and the nearby (and very popular) Grand Canyon, the Vermilion Cliffs receive little attention. For those interested in unique canyonland adventures, the Arizona Strip District offers some of the most rewarding backpacking trails in Arizona. Coyote Buttes, Vermilion Cliffs, Paria River Canyon, and Buckskin Gulch are located in some of the most remote and rugged public lands in the lower 48, creating a special appeal for some backcountry hikers.
Copyright ©2010 Benjamin Prepelka
All Rights Reserved