Scenic USA - West Virginia
Scenic USA offers a collection of select photographs from a wide variety of attractions, points of interest, historic sites, state and
national parks found throughout the United States. Each photo feature is coupled with a brief explanation.
For further detailed information, links to other related sites are provided.
Kanawha Falls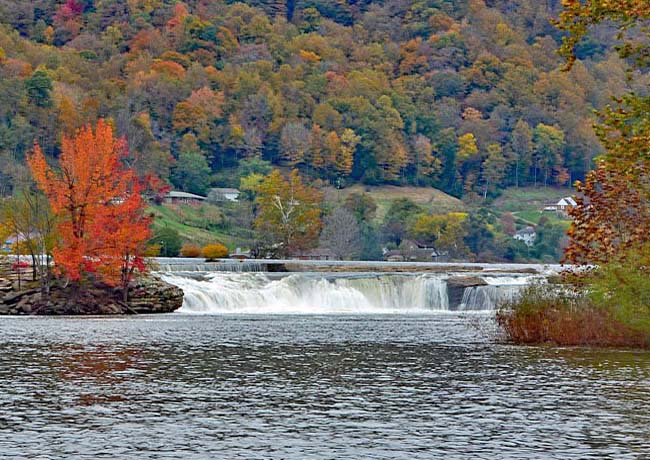 Once regarded as a single river by Native Indians, the Great Kanhaway is made up of the New and Kanawha rivers today. The New-Kanawha River Basin takes in a third of West Virginia's territory, and is viewed as the state's most important river. Navigable for 20 miles upriver from Charleston, the waterway is an important artery for industrial commerce. With large reserves of coal and natural gas, the area adds a large boost to the state's economy.
The town of Glen Ferris grew up along the Kanawha and nearby the Union Carbide mines. Here the town's original homes were company leased coal camp housing. One of the first dwellings in this coal mining town was built in 1810. The home was later converted into an inn; and with three or four remodels, the inn lives on today. The Glen Ferris Inn provides a great vantage point of the river and a wonderful view of the Kanawha Falls. This photo catches the Kanawha Falls area in late October when the hillsides begin to put on a fiery show of fall colors.
Copyright ©2009 Benjamin Prepelka
All Rights Reserved