Scenic USA - West Virginia
Scenic USA offers a collection of select photographs from a wide variety of attractions, points of interest, historic sites, state and
national parks found throughout the United States. Each photo feature is coupled with a brief explanation.
For further detailed information, links to other related sites are provided.
Kaymoor Mine - Butcher Branch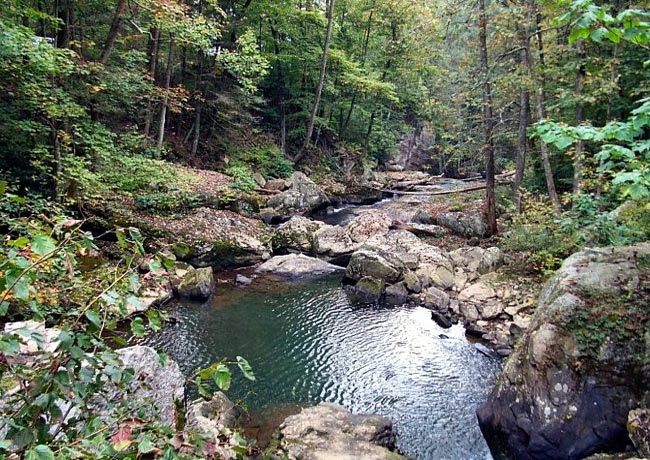 West Virginia's Kaymoor Mine, governed by the National Park Service, is one of the popular day hikes in New River Gorge. Reasons for any hike vary from reaching a final destination, finding a cache, or enjoying the scenery along the way. This Kaymoor Mine Trail offers one of each, including this beautiful scene of Butcher Branch found along the way to the mine. The mine site consists of a collection of mining equipment and town ruins. Take your pick, four different trails lead to the mine site, ranging from easy to the very difficult Miners Trail.
The Kaymoor Mine and camp were built by the Low Moor Iron Company in 1899. The Low Moor name was coupled together with the mining town construction manager, James Kay. During the mines heyday, 1,500 men were employed with mining and coke oven operations. Production slowed in the 1950s and the town's residents drifted away.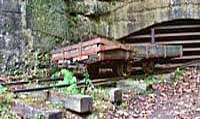 Today, little remains of the burned out town, and the mining machinery has given way to corrosion. The Kaymoor tipple, centerpiece of the site, was removed by the park service, deemed a hazard and beyond repair. Still in all, there are plenty of ghostly sights. Mining buildings, coke ovens, mine equipment and the mine entrance capture the essence of an early 20th century bustling mining operation.
Copyright © 2009 Benjamin Prepelka
All Rights Reserved