Scenic USA - West Virginia
Scenic USA offers a collection of select photographs from a wide variety of historic sites, points of interest, and both state and
national parks found throughout the United States. Each photo feature is coupled with a brief explanation.
For further detailed information, links to other related sites are provided, but in no means are they an endorsement.
Gauley Whitewater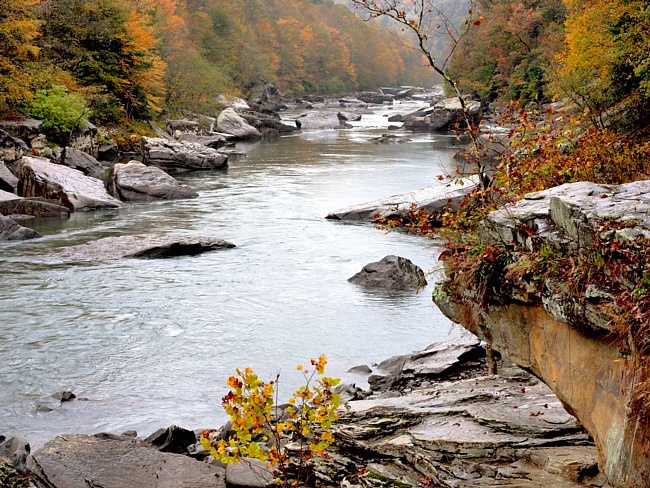 Gauley Mountain, located in West Virginia's Pocahontas County, signals the beginning of three forks that make up the Gauley River. Peaceful looking enough in this river scene, the Gauley does have some relatively tame areas. But from spring through fall the Upper Gauley is one of the most popular sites for whitewater rafting in the entire eastern states. A U.S. Congressional Act, first of its kind, mandates controlled water releases for downriver recreation. Beginning in September, known as the Gauley Season, six successive weekends offer a raging whitewater. The most difficult, nearly 10 miles of the Upper Gauley, are rated from Class IV to +V rapids. In 2008, the National Park Service developed the Woods Ferry access point, now a convenient put-in and an excellent point to separate the upper and lower sections of the river. Downriver from Woods Ferry, the Lower Gauley is a wee bit tamer, with rapids ranging from IIIs to IVs.

For those die-hard white water enthusiasts, there are 22 days of guaranteed thrills. Here on the Upper Gauley, the most notable Class V rapids include Pillow Rock, the Iron Ring, Lost Paddle and Sweet's Falls. Named for John Sweet, the first to pioneer rafting on the Gauley in 1972, Sweet's Falls is one of the most dramatic and challenging runs that the Gauley has to offer. Although whitewater fans come from around the world for American Whitewater's Gauley Fest, the Gauley Canyon and the Gauley River National Recreation Area also provide year around adventures with fishing trips, horseback riding, hiking, rock climbing and winter recreation. For river paddlers, rafting runs range from two hour trips to full day adventure.
Copyright ©2011 Benjamin Prepelka
All Rights Reserved