Scenic USA - Washington
Scenic USA offers a collection of select photographs from a wide variety of attractions, points of interest, historic sites, state and
national parks found throughout the United States. Each photo feature is coupled with a brief explanation.
For further detailed information, links to other related sites are provided.
Deception Pass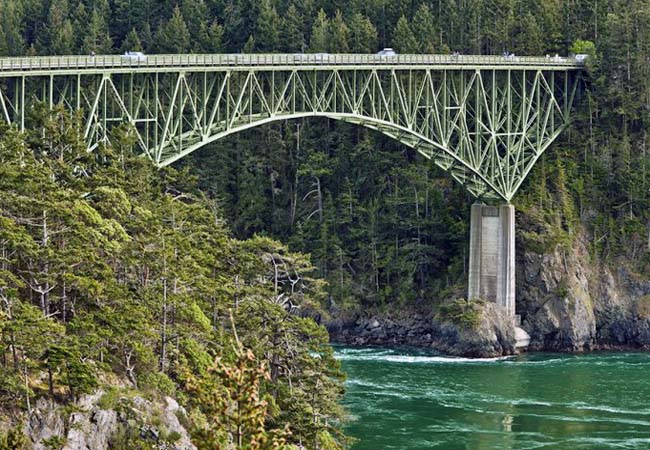 The coastal area of Deception Pass in Washington ranks high on the state's list of scenic locations. Surrounded by rugged cliffs and a hallmark evergreen forest, the picturesque island attracts an abundance of wildlife, creating a wonderful site for Deception Pass State Park.
The park features both freshwater and saltwater boating access points, ample campgrounds, and 40 miles of biking and hiking trails. This misty view captures the northern coastline of Whidbey Island, including a National Historic Landmark ... the Deception Pass Bridge. Made up of two adjacent spans, the bridge is part of the island hopping connecton, Route 20. The 74 year old bridge crosses the narrow channels of Deception and Canoe passes. The interesting name, Deception Pass, refers back to an old Spanish map that mistakenly named the pass as a closed in bay. These turbulent waters link the Straits of Juan de Fuca with the Saratoga Passage, among the islands of Puget Sound.
Copyright ©2009 Benjamin Prepelka
All Rights Reserved