Scenic USA - West Virginia
Scenic USA offers a collection of select photographs from a wide variety of historic sites, points of interest, and a large
sampling of America's parklands. Each photo feature is coupled with a brief explanation.
For further detailed information, links to other related sites are provided, but in no means should they be considered an endorsement.
Hawks Nest Park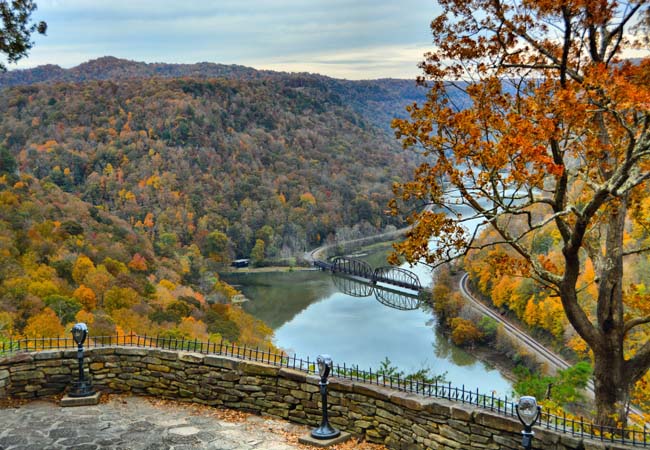 Photos by Clayton Parsons

A short distance from the town of Gauley Bridge, Hawks Nest State Park's acreage takes in a large chunk of the cliff-side overlooking the New River Gorge. The famous Hawks Nest name aptly describes this view from the lofty perch high above the New River.

Applauded for its series of trails, nature center and lodge, the park also covers a gamut of recreational activities. The nature center features exhibits and interactive displays that center on community wildlife and the surrounding West Virginia forest. Here, youngsters may learn about a few feathered friends, including the blue heron, common loon and belted kingfishers, which live by the lake and river.
Visitors may also enjoy a jet boat ride on the New River, were views of the canyon and New River Gorge Bridge will guarentee impressive photographs. Guests can also enjoy the park over a series of hikes. You'll not only be wowed by the views from Lovers Leap, but also entertained by interesting Native American legend that's tied to the name.
Nearby Hawks Nest and Gauley Bridge, waterfall fans will have to visit one of the tallest falls in the state. Located alongside U.S. Route 60, the stately Cathedral Falls cascade drops 60 feet into a natural amphitheater. Cathedral Falls is one of the most photographed falls in the state.
Copyright ©2011 Benjamin Prepelka
All Rights Reserved