Scenic USA - Maryland
Scenic USA offers a collection of select photographs from a wide variety of attractions, points of interest, historic sites, state parks and
national parks found throughout the United States. Each photo feature is coupled with a brief explanation.
For further detailed information, links to other related sites are provided.
Casselman Bridge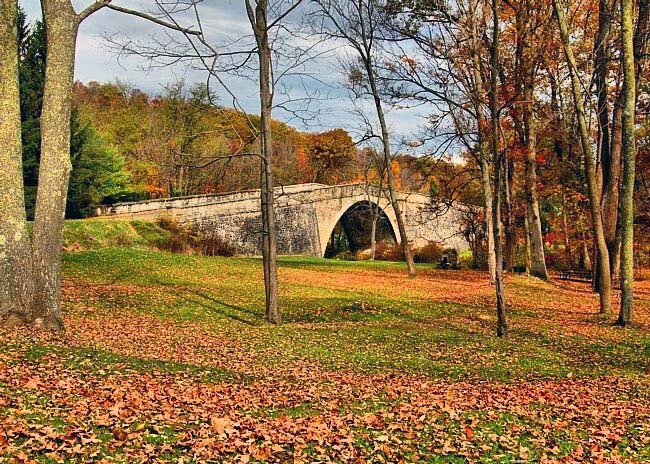 Considered as the road that built a nation, the Historic National Road saw initial construction in 1811. Providing a connection between the Potomac and Ohio rivers, the federally built highway crossed the Allegheny Mountains in southwestern Pennsylvania and the Maryland panhandle, reaching Wheeling in 1818. Plans to continue westward were hampered by a lack of funding, ending construction in Van Dalia, Illinois.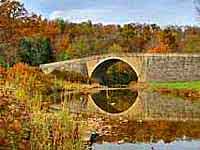 One of the National Road remnants is found east of Grantsville, Maryland, in an area once called Little Crossings. The Casselman River Bridge, a key to the newly constructed National Highway, was designed by David Shriver. Standing for nearly two hundred years in the Maryland panhandle, the 80 foot stone arch bridge surprised initial skeptics and still amazes Casselman River Bridge State Park visitors. The arch bridge was the largest of its kind when built in 1813, now an entry of the National Register of Historic Places. Here, from the four acre park, visitors can witness three different eras of bridges. The adjacent 1930's a two lane steel truss bridge carries U.S. Alt 40 traffic and nearby Interstate 68 bridges cap off the latest of America's modern highway systems.
Copyright ©2010 Benjamin Prepelka
All Rights Reserved