Scenic USA - Maryland

Catoctin Mountain Byway
---
---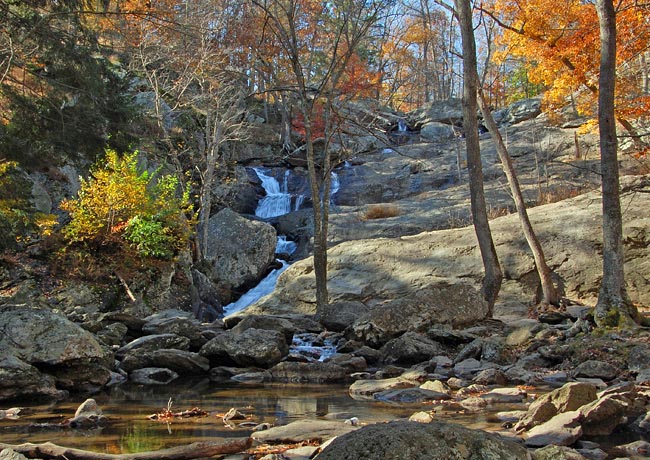 Following U.S. Route 15 across Fredrick County, the Catoctin Mountain National Byway meanders through an easternmost extension of the Blue Ridge Mountains in western Maryland.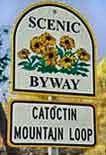 Rising to its highest elevation of 1885 feet in Catoctin Mountain Park, this mountain range provides a sanctuary for wildlife and a variety of picturesque settings on the 40 mile byway.
  The first "roads" in this area followed a network of Indian trails, well worn by Iroquois and Algonquian natives. First called turnpikes, these wagon roads were the precursors of modern highways, connecting small towns and other main trading routes.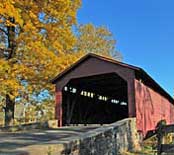 From Emmitsburg in the north to the Point of Rocks on the Potomac River in the south, the byway offers more than 15 major attractions, including covered bridges around Thurmond, Civil War battle sites, historic Frederick, numerous sites on the Chesapeake and Ohio Canal, piedmont farms and Cunningham Falls State Park.
  Locally known as McAfee Falls, named after a family of original settlers, the Cunningham Falls area was first developed by the Civilian Conservation Corps as the Catoctin Recreational Area, and is now part of the Cunningham Falls State Park. Here, Big Hunting Creek cascades 78 feet into a rocky gorge, creating the park's centerpiece. One of the southernmost covered bridges (inset) is located on Utica Road south of Thurmond. Washed away in a severe storm last century, residents gathered up what remained of the Utica Covered Bridge and reconstructed the 101 foot span over the Fishing Creek.
  Another landmark near the southerly Point of Rocks is the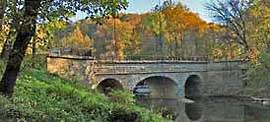 freshly restored Catoctin Creek Aqueduct (inset). Today, hikers and bikers utilize a tow-way that was once filled with water. Amazing as it may seem, the Catoctin Aqueduct crosses above Catoctin Creek, connecting Cumberland (MD) and Georgetown (VA) with a complex canal system. Catoctin Aqueduct was one of 11 stone aqueducts on the 184 mile Chesapeake and Ohio Canal, completed in 1834.

    Byway Map
---
| | |
| --- | --- |
| More Byway Points of Interest | Scenic USA Prints from Fine Art America |
---
Copyright © 2012-16 Benjamin Prepelka
All Rights Reserved