Scenic USA - Maryland

Western Maryland Scenic Railroad
---
---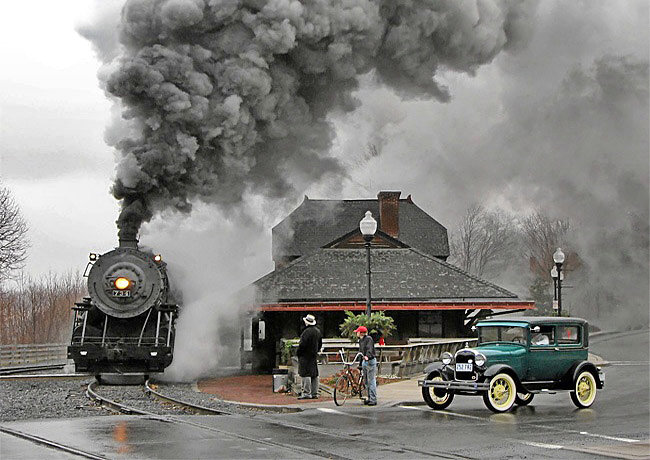 The early twentieth century marked a new era for American artists and architects. First to make an impression on the rest of the world, Winslow Homer, Charles Russell,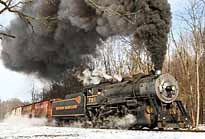 and Frederic Remington began painting in a realistic style featuring America's life and landscape. Straight out of the early 1900s, this Frostburg Depot scene could have easily been painted by one of America's 20th Century American Scene Painters. In this wonderful 21st century photographic composition, the eye is quickly drawn to a billowing cloud spewing from a 1916 Baldwin, and on to the spectators, especially the shiny new sedan.
Here aboard the Western Maryland Scenic Railroad, a vintage train will whisk you back to the historic days of railroading. Guests may choose first class seating on dining and café cars, or first-come first-serve coach seating. Another option for biking enthusiasts offers a one way train ride, returning by way of the Allegheny Highland Bike Trail. Here along the route, passengers may enjoy lunch and take in the scenic views from large coach windows. The train departs Cumberland and heads out through the Narrows, America's First Gateway to the West.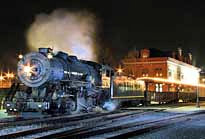 Rounding the half mile Helmstetter's Curve, the train rolls across Cash Valley and a favorite vantage point for photographers and rail fans. Hairpin curves announce the Woodcock Hollow and the lone survivor of the C&P Railroad, the Frostburg Depot. A ninety minute layover allows enough time to enjoy Frostburg's shops and restaurants, and watch the engine #734 make an 180 degree turn on a turntable. The excursion train route, paralleling scenic U.S. Route 40, cuts through the western Maryland's countryside, providing plenty of Allegheny Mountain scenery and time to experience a marvelous piece of Maryland's railroad history.

Area Map
---
| | |
| --- | --- |
| Additional Points of Interest | |
---
Copyright © 2009-15 Benjamin Prepelka
All Rights Reserved