Scenic USA - Oregon

Fort Clatsop
---
---
   After a 4000 mile trek across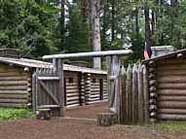 a wild continent, the Lewis and Clark Expedition had finally reached the Pacific Coast in 1805 after 18 exhausting months. President Jefferson's personal secretary, Meriwether Lewis, was instructed to follow the Missouri River to its source, cross the western highlands, and follow the best water route to the Pacific Ocean.
   After the first winter, Lewis and Clark hired fur trader Toussaint Charbonneau as a guide and interpreter. Charbonneau turned out to be a poor choice, but his wife, Sacajawea, more than made up for Charbonneau's shortcomings. Sacajawea rescued the mission numerous times, taught the expedition members to forage for wild plants and reassured Native Americans of expedition's peaceful intentions.
   Facing another winter near the Pacific coast, the expedition voted to build a fort near today's Warrenton on the Lewis and Clark River. The Fort Clatsop National Memorial is one unit of the Lewis and Clark National Historic Park.
The memorial park includes an interpretive center, an orientation film and costumed re-enactors. The replica fort and expedition housing, built in 1955, was severely damaged by fire in 2005. Led by a volunteer group of 700, another replica was raised for a bicentennial celebration. The group followed Captain William Clark's detailed drawings of the fort, including the furniture. Its rustic and rough-hewn logs may more accurately depict the first Fort Clatsop, completed two days before Christmas, 1805. Clark's notes reveal the Corp of Discovery's trying times at the fort, lasting 106 days. Encountering rain nearly every day, the expedition was also plagued by fleas and spoiled meat, "with little to raise their spirits". Despite their hardships, the expedition was a resounding success, one of the bright spots during President Jefferson's second term.

    Area Map
---
---
Copyright © 2010-17 Benjamin Prepelka
All Rights Reserved