Scenic USA - Maryland

Wilson and Son General Store
---
---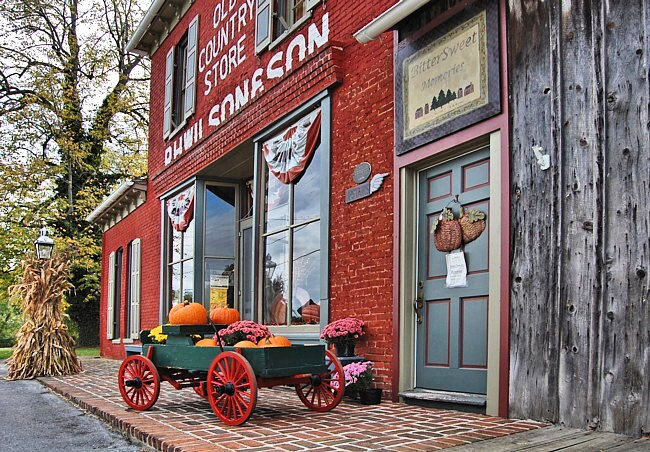 The National Road was first conceived by Thomas Jefferson, a way to link the seaboard Colonies to the Great Interior.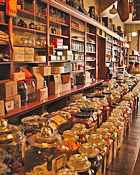 Construction of the route from Cumberland, Maryland, to Vandalia, Illinois, began in 1811, but progress was very slow. During its early years, railroads and canals moved the majority of farm products to the east. As the highway took shape, cities and town quickly sprouted up along the route. During the next century the highway, with its slow moving traffic, begged for modernization. Soon the old National Highway was bypassed by U.S. Route 40, and later by a faster moving Interstate 68.
The R.H. Wilson General Store was one of many establishments set up along the National Highway in Clear Spring.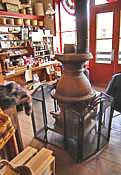 Rufus Wilson built his general store near the banks of Maryland's Condcocheague Creek in 1847. A post office, blacksmith shop and school followed. Enjoying great success, the store attracted drovers, farmers and travelers, finding the store a great rest stop. Bypassed by a railroad and modern highways, business withered and the store finally closed its doors in 1975.
Today, you'll find the R.H. Wilson and Son General Store has been carefully restored. Purchased in 1983 by Lewis and Frances Horst, this inviting historic landmark appears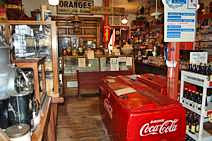 as a page right out of the 19th century. You may even imagine those old cattle drovers playing checkers by the pot bellied stove. The store features retro toys, old fashioned candies, glass bottled soda, old-time remedies, heirloom seeds and plenty of tasty goodies. Don't forget to duck as you peek into the tiny post office for a few more nostalgic memories. Nearby, the old 1855 school house, a labor of love, is also a must see historic landmark. Some visitors say it looks as if the children will return from recess any minute.

Area Map
---
| | |
| --- | --- |
| Additional Points of Interest | |
---
Copyright © 2011-15 Benjamin Prepelka
All Rights Reserved