Scenic USA - Maine
Each day Scenic USA presents a new and exciting photo feature from somewhere in the United States. Chosen from a wide variety
of historic sites, city scenes, backcountry byways, points of interest and America's best parklands, this site offers the viewer hundreds
of unique vacation destinations and photographic subjects. Each feature is coupled with a brief explanation. For further detailed
information, links to other sites are provided, but are never to be considered an endorsement.
Carriage Roads of Acadia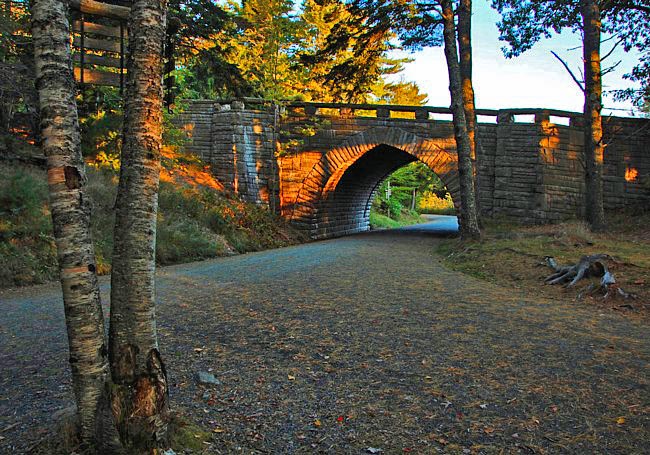 Commonly used around the turn of the 20th century, the carriage roads of Acadia are some of the best examples of crushed stone roads in existence. Constructed with a great deal of hand labor, the 16 foot wide roads, sloped with a 16 inch crown, fared well during Maine's wettest weather.
Much of Acadia National Parkland was donated by John D. Rockefeller Jr. Rockefeller's vision of a carriage road plan is seen throughout the park. Participating in the design process, Rockefeller's gifted eye aligned the roads to follow contours of the land, using retaining walls to preserve the hillsides and save trees.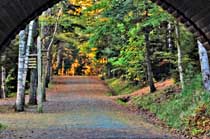 Road crews used Mount Desert Island granite for both the road surfaces and bridge facings. Affectionately called Rockefeller's teeth, large coping stones serve as roadside guardrails. Cedar sign posts that once directed carriage drivers, still guide hikers, bicyclists and equestrians today.
Maintaining Acadia's carriage roads is no easy task. Besides the extensive amounts of labor from hundreds of volunteers, the Friends of Acadia also contribute more than 200,000 dollars annually to maintain the park's carriage roads. Continuing the tradition of Rockefeller's philanthropy, Friends of Acadia support many aspects of Acadia National Park.
Copyright © Benjamin Prepelka
All Rights Reserved