Scenic USA - Maine
Scenic USA offers a collection of select photographs from a wide variety of attractions, points of interest, historic sites, state and
national parks found throughout the United States. Each photo feature is coupled with a brief explanation.
For further detailed information, links to other related sites are provided.
Sand Beach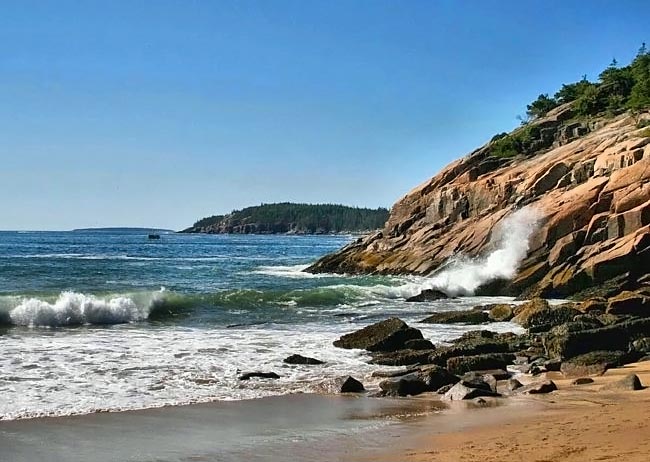 Just as no ball game is complete without a hot dog smothered in favorite condiments, there'd be no beach without a thick layer of toe-tickling sand. This rare little beach, covering less than a quarter mile, is sandwiched between Maine's signature coastline, a jumble of large multicolored granite rocks. Although Acadia's Sand Beach is manned with lifeguards during the summer and the National Parks Service provides a bathhouse, only the brave take to the cool waters, rarely topping the 60 degree mark.
Star parties and shoreline hikes attract more attention at Sand Beach. Although Maine's weather is more cloudy more than clear, ranger lead star parties at beachside introduce the Maine sky and its constellations. Acadia's 47,000 acres provide an effective dark site for stargazing, perfect with autumn's clear skies and evening darkness that descends early. Acadia National Park offers over 125 miles of hiking trails, ranging in difficulty from easy to strenuous. From the Sand Beach area, the Great Head Trail, rated as moderate, hugs the shoreline of the small peninsula. Ocean Trail, an easy 3 mile hike, begins near Sand Beach on the east side, and passes the famous Thunder Hole on the way to Otter Point.
Copyright ©2008 Benjamin Prepelka
All Rights Reserved