Scenic USA - South Carolina

Congaree National Park
---
---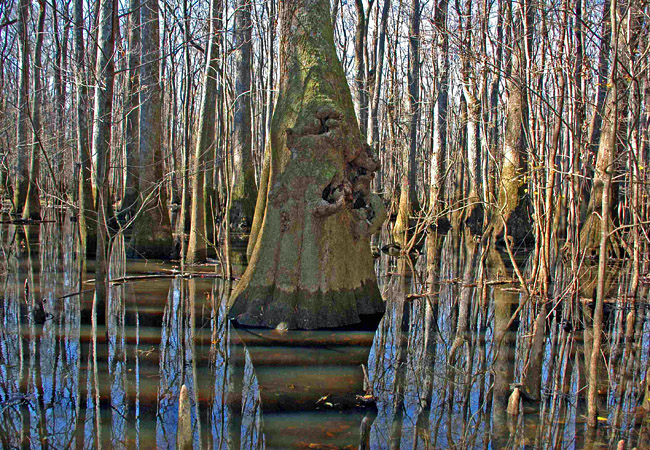 Photos by Luther McPherson

Congaree National Park, designated a wilderness area, is home to largest contiguous tract of old-growth bottomland hardwood forest in North America. The immense floodplain, making it nearly impossible to carry out lumbering operations,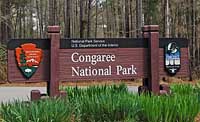 is valued today for its undisturbed forest. Park elevation changes in the park are ever so slight, with the majority of water loving plants dominating the low ground. Here, the Congaree River floodplain drops 20 feet over a 23 mile stretch. Flooding occurs about 10 times a year, bringing rich soil and nutrients to this forest of giants. Congaree National Park is known for its champion trees, trees which hold a record for their size. At least 20 champion trees are found in the 24,000 acre park, including loblolly pine, hickory and bald cypress. The tallest of all is the loblolly pine, measuring 15 feet in circumference and standing 167 feet tall. The park's water tupelo, American elm and cherrybark oak, straining to get above the thick tree canopy, are also record holders for their species.
These giant trees and immense diversity of wildlife call for a close up look, and there's no better way to see the park than by canoe tour. Every Saturday and Sunday the park offers free ranger guided canoe tours along Cedar Creek. This swampy region, with its canopy averaging over 100 foot tall, contains a variety of trees, including cypress, tupelo, sugarberry, holly, ironwood and water oaks. Up on the bluffs, beech, longleaf pine, turkey oaks and loblolly pine thrive in well drained areas of the park.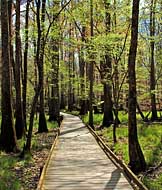 Visitors are treated to park wildlife sightings as well, with a chance to spot songbirds, flying squirrels, owls, woodpeckers, white-tailed deer, and otters and raccoons along the riverbanks.
Congaree National Park, once known as Congaree Swamp National Monument, became South Carolina's first national park in 2003. Its name is a tribute to the area's original inhabitants, the Congaree Indians. This unusual reflective view of the Congaree floodplain, where cypress tree shadows and reflections mix on the murky water, may be one highlights found along the park's elevated boardwalk loop. If you're not up to exploring Cedar Creek by canoe, the boardwalk hike is the next best thing. Here, forest highlights and examples are well marked, corresponding to a detailed park brochure.

Area Map
Trail Guide
---
| | |
| --- | --- |
| Additional Points of Interest | |
---
Copyright © 2008-15 Benjamin Prepelka
All Rights Reserved