Scenic USA - Maine
Scenic USA offers a collection of select photographs from a wide variety of attractions, points of interest, historic sites, state and
national parks found throughout the United States. Each photo feature is coupled with a brief explanation.
For further detailed information, links to other related sites are provided.
Great Duck Island Light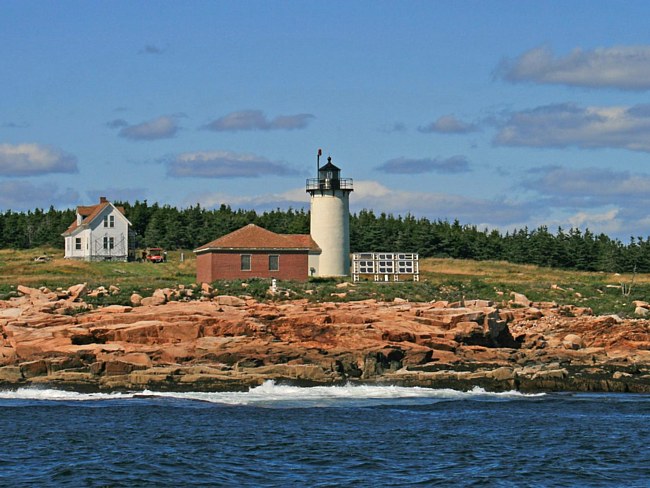 The approach to Blue Hill Bay, through the Gulf of Maine, leads mariners by a collection of rocky islands. About five miles southeast of famed Bass Harbor and Mount Desert Island lies the Great Duck Island. The 265 acre rocky isle, with a built-in natural bird bath, is the summer home for thousands of ducks, Black Guillemots, and Storm-petrels; nearly 20 percent of Maine's nesting seabirds.
The U.S. Government purchased 11 acres on the Duck Island's south side, enough land for a lighthouse tower, three keepers dwellings, a fog signal building and an oil house. Lightkeepers, over the years, offered up their memories of the island's tranquil and solitary setting, and occasional difficulties receiving help and supplies from the mainland. One of the lightkeepers assistants arrived in 1902 with his wife and 17 children. It's hard to imagine life being tranquil during their stay.
The lighthouse, a 42 foot tall tower, was complete in 1890. The brick and granite structure still stands today and is fully functional. The Great Duck Island Light was one of the last light-stations to be automated, converted to solar power in 1986. The keeper's quarters were renovated in 1994, and now houses the Alice Eno Biological Station, a research facility. The lighthouse remains closed to the public and is best seen by boat.
Copyright ©2009 Benjamin Prepelka
All Rights Reserved