Scenic USA - Maine

Acadia National Park
---
---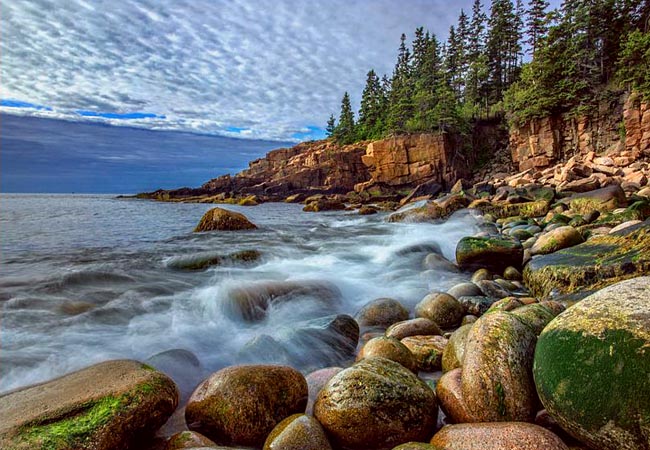 Relentless in its ebb and flow, the sea continues to polish a huge assortment of boulders and the granite cliffs of Mount Desert Island.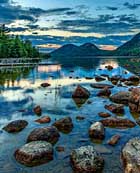 One of Maine's most famous treasures, this signature coastal island became the first national park east of the Mississippi River. In a striking example of Maine's beauty, the shoreline scene seems a million years away from being a sand beach. The tumbled collection of pink and gray granite rock, created by tons of crushing galactic ice, is now home to the only national park in northeastern United States.
Recognized early on as summer retreat for writers and artists in the early 1800s, soon the wealthy began to erect cottages on Mount Desert Island, and most were large enough to entertain dozens of guests.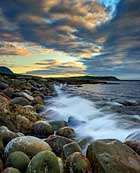 It was once stated, the portable sawmill created Acadia National Park. When George Bucknam Dorr realized what would become of the island he led a crusade, along with Charles W. Eliot, in saving the land from any further development. One of the most notable donors was the ever charitable John D. Rockefeller. In the end, Rockefeller spent a total of 3.5 million dollars on Acadia and donated 10,000 more acres.
Thanks to these visionaries and many donors, Acadia National Park is one of the most cherished preserves in New England. While the park was first established as Sieur de Monts National Monument in 1916, it achieved national park status in 1919 as Lafayette National Park. Renamed Acadia National Park in 1929, the word stems from Arcadia, a Greek name which explorer Giovanni Verrazano first bestowed on the land in 1524. And it's here, where granite mountains and rocky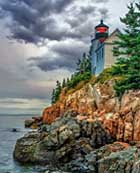 coast meet a restless sea, that visitors flock to enjoy the pristine mountain air, its evergreen forests, magical lakes and picturesque coves.
Home to the tallest coastal peak in the northeast and 50 miles of intricate shoreline, finding activities to enjoy are only limited by one's imagination. Suggested recreation naturally includes sightseeing, hiking, wildlife viewing, fishing and picnicking, but some visitors love rock climbing, bicycling, tide-pooling, horseback riding, cross-country skiing and snowshoeing. Forty-five miles of carriage roads, first constructed by John D. Rockefeller, offer the perfect way to explore the park. Whether by foot, horse-drawn carriage, horseback, bicycle, snowmobiles or snow-skies, the park entices its visitors to reconnect with the great outdoors.

Area Map
NPS Park Map
---
| | |
| --- | --- |
| Nearby Points of Interest | |
---
Copyright © 2006-16 Benjamin Prepelka
All Rights Reserved