Scenic USA - California
Each day Scenic USA presents a new and exciting photo feature from somewhere in the United States. Chosen from a wide variety
of historic sites, city scenes, backcountry byways, points of interest and America's best parklands, this site offers the viewer hundreds
of unique travel destinations and vacation ideas. Each feature is coupled with a brief explanation. For further detailed information, links
to other related sites are provided, but are never to be considered an endorsement.
Summit Lake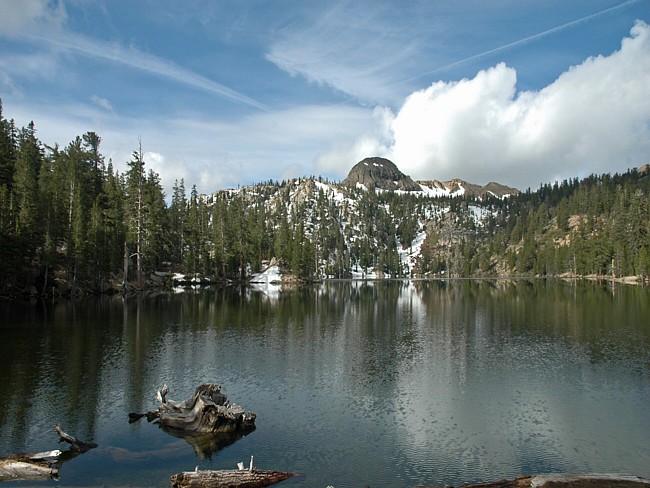 Nearing its 100 year anniversary, Lassen Volcanic National Park is among America's oldest national parks. Established in 1916, Lassen is primarily known for its volcanic geology and great diversity of natural habitats. Over 700 flowering plant species and 250 vertebrates have been logged in the park. The park's wide range of environmental conditions are due to the great changes in elevation (5,000 to 10,457 feet).
Receiving upwards of 40 feet of snow per year, visitor access is highly dependent on the weather. Although light snowfall begins in early October, the main park road usually stays open until November.
This scenic view of Summit Lake and Hat Mountain reminds us that snow lingers around these high elevations into the month of August. Summit Lake Campground may make the perfect summertime retreat for those wishing to escape the hot summer temps in the valley. During the peak season, from mid June through September, the park is usually sunny and dry, with warm days and cool nights. Campgrounds may fill quickly during summer weekends and ranger programs are in full swing.
Copyright © Benjamin Prepelka
All Rights Reserved