Scenic USA - California
Scenic USA offers a collection of select photographs from a wide variety of historic sites, points of interest, and a large
sampling of America's parklands. Each photo feature is coupled with a brief explanation.
For further detailed information, links to other related sites are provided, but in no means should they be considered an endorsement.
Castle Crags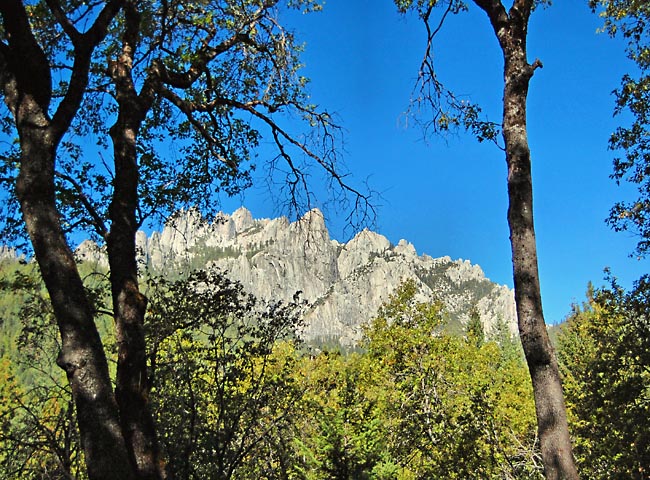 Photo by Ben Prepelka
Inset photos - Gary O'Toole

Thrust upward from the I-5 corridor and Sacramento River Valley, Castle Crags rises 4500 feet to the tips of a jagged cluster of spires.
These scarred remnants of a glaciated Trinity mountaintop create the centerpiece of Castle Crags State Park and one of the more popular hiking destinations in northern California. Park visitors also enjoy swimming and fishing in the Sacramento River, as well as 28 miles of hiking trails.
The five mile (round trip) Crags Trail tests the will of Castle Crags hikers as it gain 2200 feet in 2.5 miles. Enthusiastic hikers may continue on a steeper grade, connecting with the Pacific Coast Trail,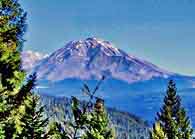 Indian Springs. Proceeding to the trail's end at Castle Dome will certainly earn a few bragging points.
For those just wanting to get a good peek at Castle Crags, the campground entrance road leads up to Vista Point. It's a good idea to take this very narrow, winding climb at a snail's pace, as other cars may be returning from the overlook. Once at the top, a short half mile pathway leads around to Vista Point where visitors are rewarded with views of both Castle Crags and Mount Shasta in the distance.

Area Map
Copyright ©2011 Benjamin Prepelka
All Rights Reserved