Scenic USA - California
Scenic USA offers a collection of select photographs from a wide variety of historic sites, points of interest, and both state and
national parks found throughout the United States. Each photo feature is coupled with a brief explanation.
For further detailed information, links to other related sites are provided, but in no means are they an endorsement.
Lake Shasta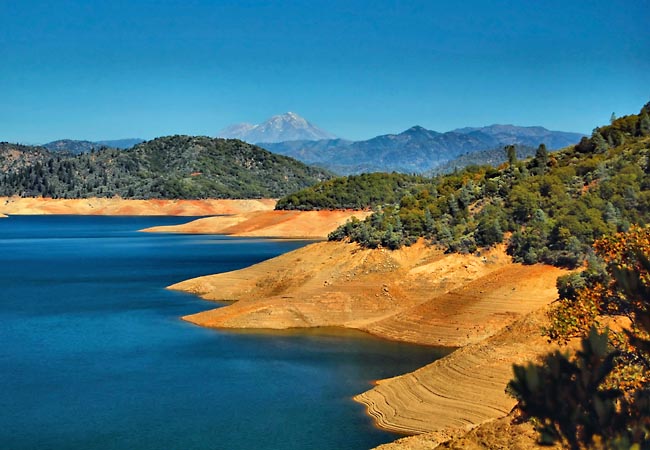 Taking advantage of the heartland's rich soils, the Golden State's economy gets a huge boost from its agriculture industry. Here in the Sacramento River Valley the Shasta Dam created a 30,000 acre lake, the state's largest reservoir, providing water and electricity for millions of people. The waters of Lake Shasta not only irrigate crops, but also entice sightseers, boaters and anglers,
The Whiskeytown-Shasta-Trinity National Recreation Area was established in 1965, taking in the beauty of northern California's Shasta-Trinity National Forest. This Lake Shasta view takes in the three Shastas, the lake, the dam area, and a faint glimpse of Mount Shasta in the distance. The Shasta Dam Vista Point overlooks Shasta Dam and Fisherman's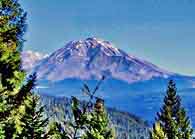 Point. Combining the waters of the Sacramento, Pit and McCloud rivers, Lake Shasta offers the perfect location for water sking, tubing and wake boarding. Located in the largest nesting area on one reservoir, bald eagles, osprey and migratory birds delight the lake's visitors.
It's difficult to mention Shasta Dam without offering the other side of the Lake Shasta story. When Shasta Dam was constructed, members of the Winnemem Wintu tribe were evicted from their homes on the McCloud River, making way for the new reservoir. Shasta Dam not only submerged their villages but most of their most sacred places. Today the Winnemem Wintu, divided into several political groups, are seeking federal recognition.
Free Shasta Dam tours are available on a first come basis. From I-5 take Exit 685 and head west on the very scenic Route 151.
Copyright ©2011 Benjamin Prepelka
All Rights Reserved