Scenic USA - Georgia
Each day Scenic USA presents a new and exciting photo feature from somewhere in the United States. Chosen from a wide variety
of historic sites, city scenes, backcountry byways, points of interest and America's best parklands, this site offers the viewer hundreds
of unique travel destinations and vacation ideas. Each feature is coupled with a brief explanation. For further detailed information, links
to other related sites are provided, but are never to be considered an endorsement.
Lapham Patterson House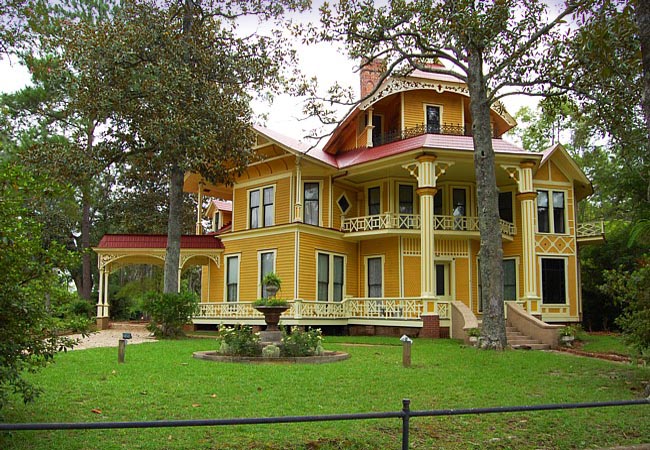 Not far from the Florida border, Thomasville enjoys short Georgia winters, and gorgeous spring and fall weather. Offering fresh air, a friendly atmosphere and no chance of a traffic jam, Thomasville is most famous for its historic district and 7000 rose bush plantings. Nicknamed the city of roses, Thomasville offers garden tours, historic downtown shopping, and a wonderful collection of Victorian style homes.
Completed in 1885, the Lapham-Patterson House is a monument to the Victorian era.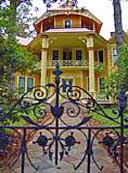 Its fish scale shingles, cantilever balcony, detailed porch decorations and bright yellow exterior proclaim its individuality and uniqueness. Situated to take advantage of the sunlight, the home was equipped with its own gas lighting system, indoor plumbing and hot and cold running water. Intentionally designed with the lack of symmetry, the core of the home is a large hexagonal-shaped room. Boasting long-leaf pine inlaid floors, a stained glass window in the gentlemen's parlor casts a colorful pattern on the floor. After experiencing the great Chicago fire, shoe merchant C.W. Lapham begged for numerous exit doors in the house.
Built as a winter cottage in the bustling resort town of Thomasville, the Lapham-Patterson house is just one of the reminders of a bygone era. Thomasville offers many historic home tours, museums, cultural centers, street dances, and of course the Rose Fest.
Copyright © Benjamin Prepelka
All Rights Reserved