Scenic USA - West Virginia
Scenic USA offers a collection of select photographs from a wide variety of attractions, points of interest, historic sites, state and
national parks found throughout the United States. Each photo feature is coupled with a brief explanation.
For further detailed information, links to other related sites are provided.
Canaan Valley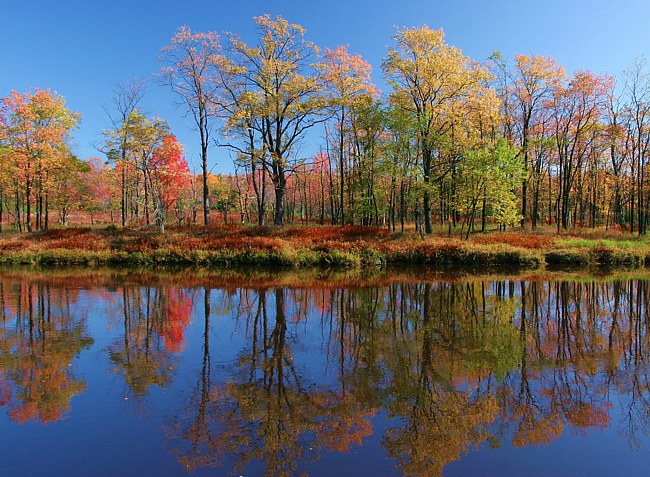 West Virginia's Canaan Valley, enjoying the limelight as the nation's 500th wildlife refuge, is centered around a high elevation valley that's comprised of a diverse mix of wetlands, forestland and grassy meadows.
Ideas about adding this unique land to the growing list of preserves surfaced in the 1950s. Repeatedly bypassed, the Monongahela Power Company proposed to flood the valley, utilizing the potential for cheap hydroelectric power. Blocked by Section 404 of the Clean Water Act, the EPA appointed a Canaan Valley taskforce to study the area. A painstaking four year study concluded with the establishment of the Canaan Valley National Wildlife Refuge. Comprised of a scant 84 acres, subsequent land acquisitions added over 15,000 acres.
This beautiful double view in a Canaan Valley pond gives a great prelude to autumn in the Allegheny Mountains. Forty miles of trails lead to all sorts of scenic views throughout the preserve. Paved roads are limited to seven miles, with the remainder of trails accessed by foot, horseback, bicycle, cross-country skiing and snowshoeing. With park hour extending an hour before sun-up and a hour after sunset, there's plenty of time to explore this marvelous preserve.
Copyright ©2006-2009 Benjamin Prepelka
All Rights Reserved