Scenic USA - West Virginia
Scenic USA offers a collection of select photographs from a wide variety of attractions, points of interest, historic sites, state and
national parks found throughout the United States. Each photo feature is coupled with a brief explanation.
For further detailed information, links to other related sites are provided.
Watoga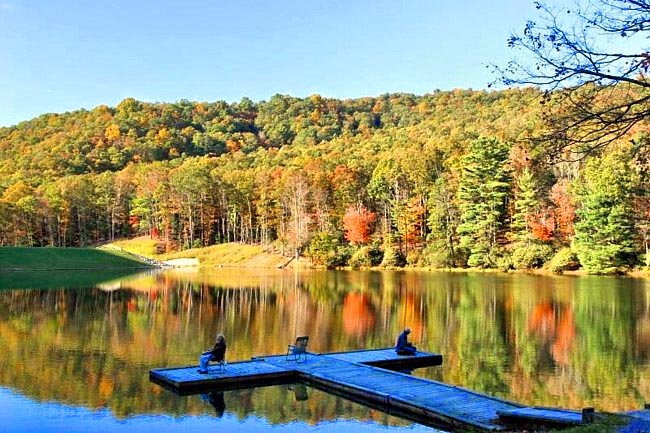 There's something soothing about this scene as two West Virginia anglers wait for a telltale sign that they're using the right bait. Maybe it's Watoga's calm waters or the tranquil mountain scenery, but for whatever reason fishing can be a relaxing hobby.
This peaceful view looks out over Watoga State Park's eleven acre lake, an area set aside in 1924. This Allegheny Mountain land was first planned as a state forest, but the depression era Civilian Conservation Corps developed the Pocahontas County land into a state park in 1934.
Together with fishing opportunities, the 10,000 acre park offers a variety of recreation activities. The park houses a popular restaurant, rec building, swimming pool, 38 cabins, two campgrounds and rental boats.
Fondly cited as a rail-to-trail conversion, the old rail-bed of the C & O Railroad passes through the Greenbrier and Seneca state forests. The 75 mile Greenbrier River Trail runs along the Greenbrier River, through Watoga State Park, Droop Mountain State Park and Cass. Hikers and bikers are in for more splendid waterway scenery of this gravel based trail.
Copyright ©2009 Benjamin Prepelka
All Rights Reserved